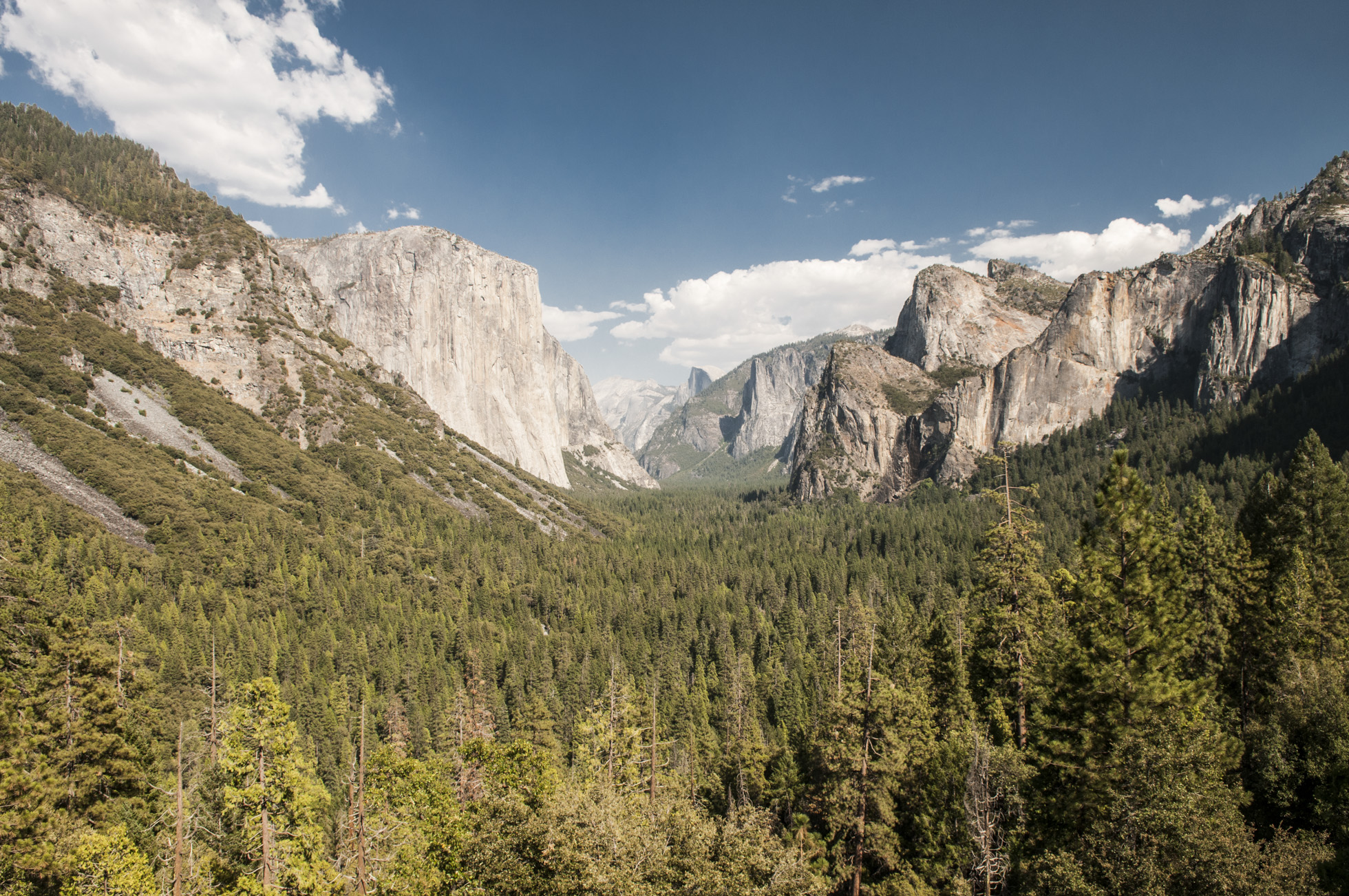 In late September 2012 Chris and I flew out to Los Angeles to begin a road trip around my favourite place in the whole world, California. We spent a few days in Los Angeles before hitting the road to rough it in the wilderness of the national parks. We had a night in Sequoia and four blissful days camping in Yosemite Valley then back to civilisation, San Jose and finally San Francisco (yep, I wore flowers in my hair). The idea was to relax after a hectic wedding season but I don't do resting very well and we crammed so much in. Space shuttles, big trees, bears, Disneyland, lots of hiking, a little bit of cycling and all the adventures in between… these are just a few highlights of our trip.
Day One – London to Los Angeles

Check out the tiny Hollywood sign in the hills! Also, what the heck is going on with Virgin's inflight meals? I can't decide which was more disappointing; the two crustless, filling free, toddler sized finger "sandwiches" they served after starving us for ten hours or the tub of dust I had for pudding. I'm usually happy with airplane food but this was rubbish.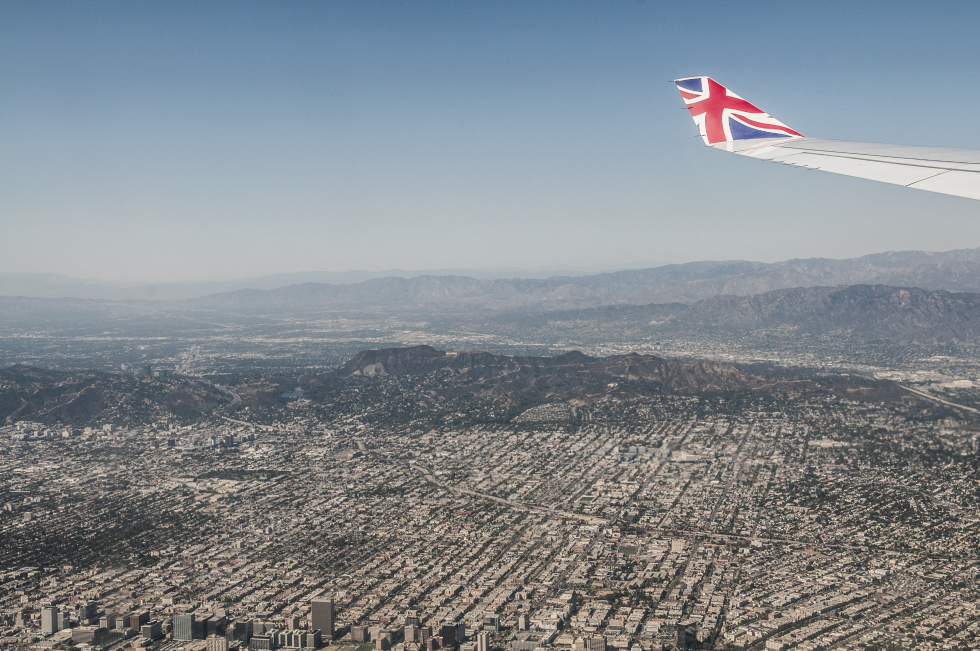 Day Two – Disney's California Adventure
First day in America means waking up at 4am for a dirty yellow breakfast and black coffee. Which also means an instant caffeine headache and power walking to Disneyland two hours before they open. Usually I would start a Disney trip with the main park but Disney's California Adventure had an irresistible new attraction… Cars Land! It was perfect, just like stepping into Radiator Springs from the film. The cars were driving around the streets and Johnny Cash and other retro Americana tracks were playing all day long. We loved everything about this park. I think I want to live there.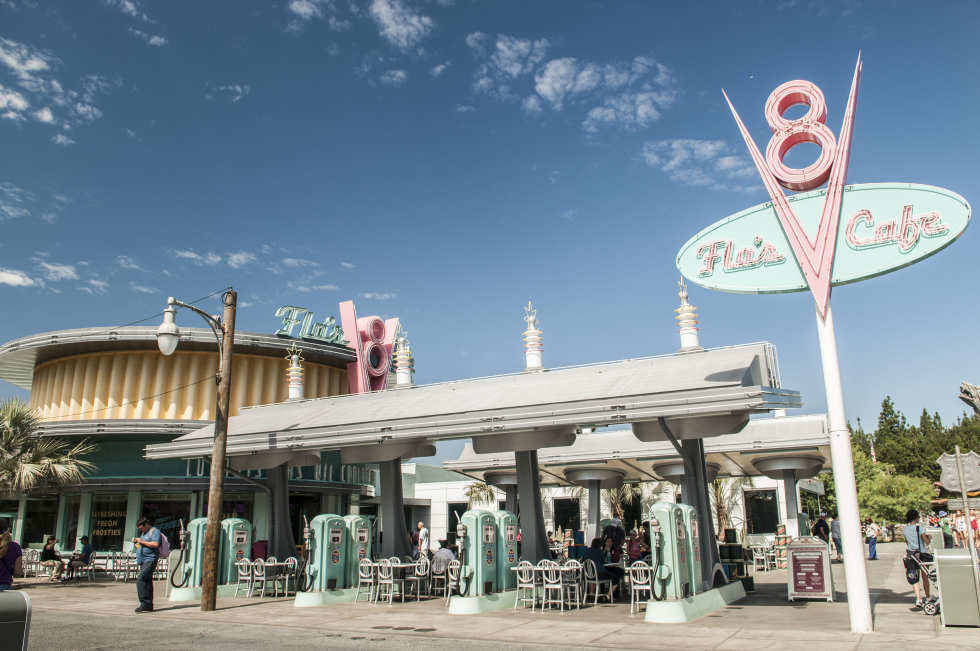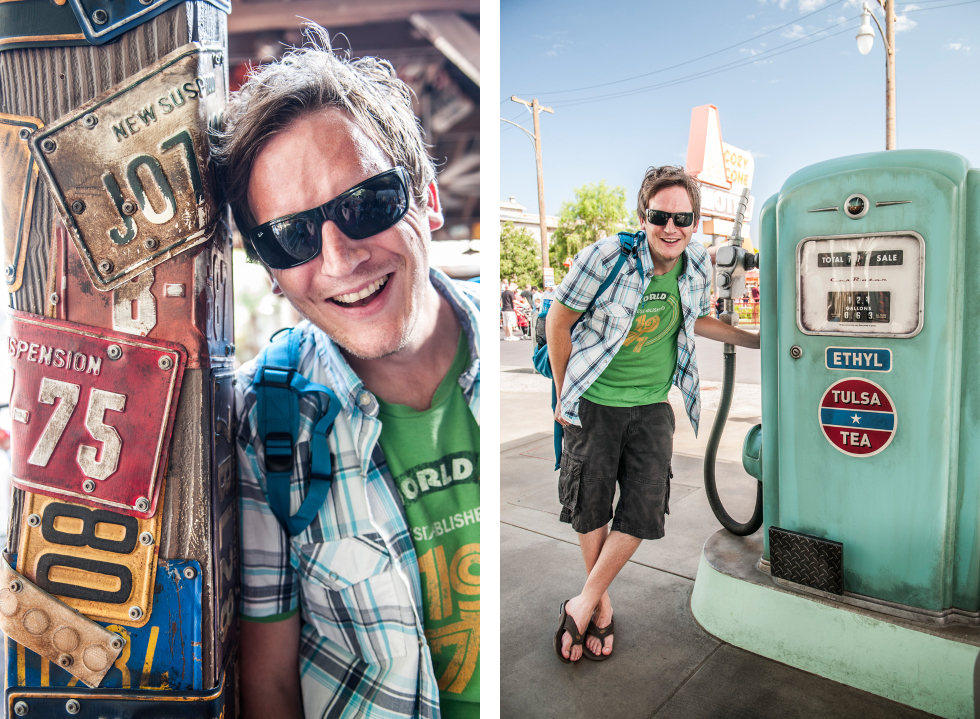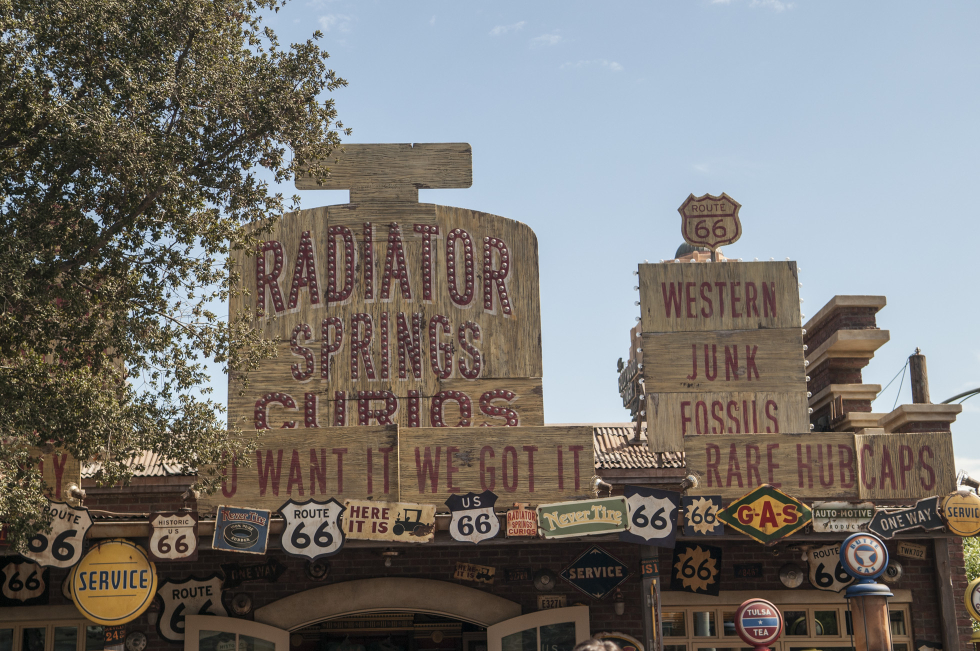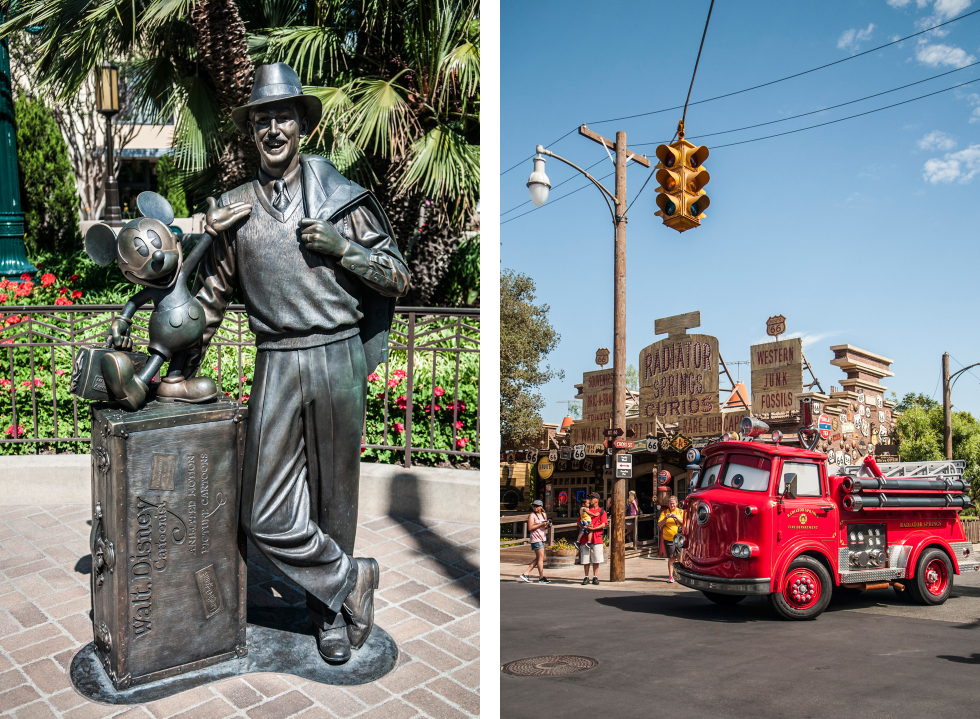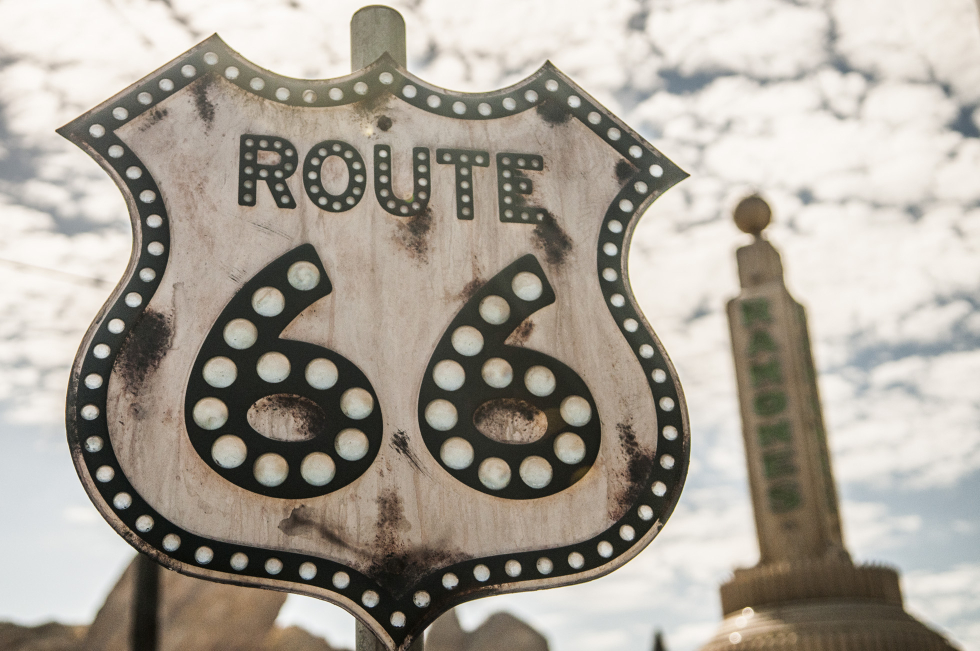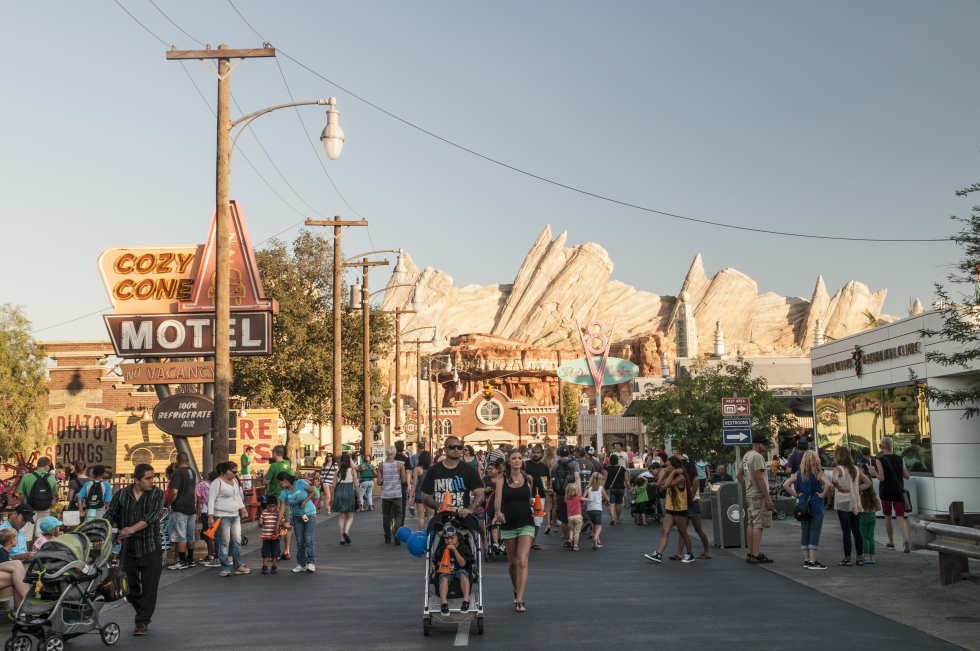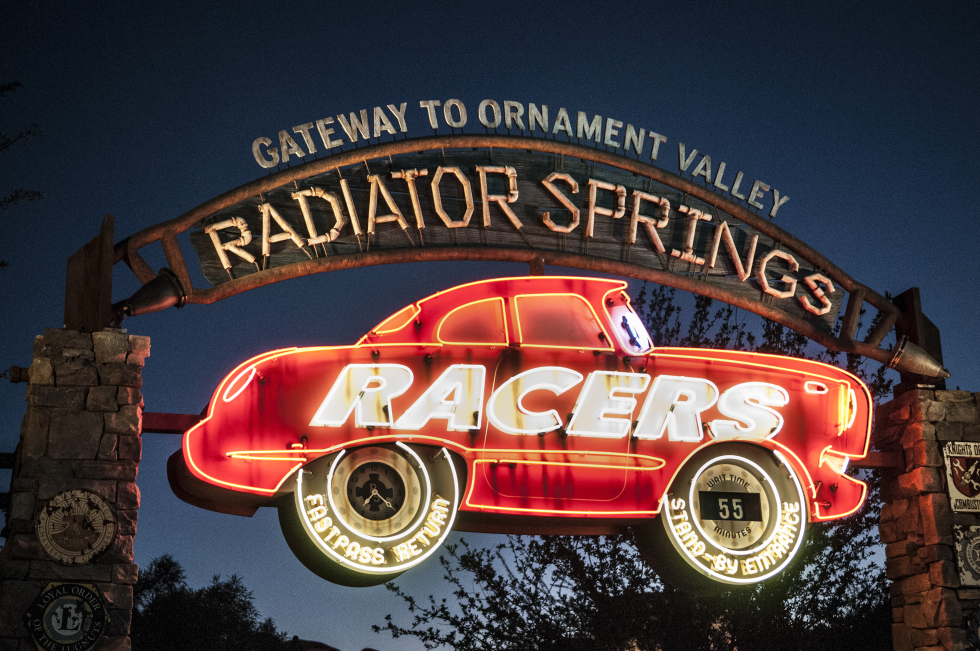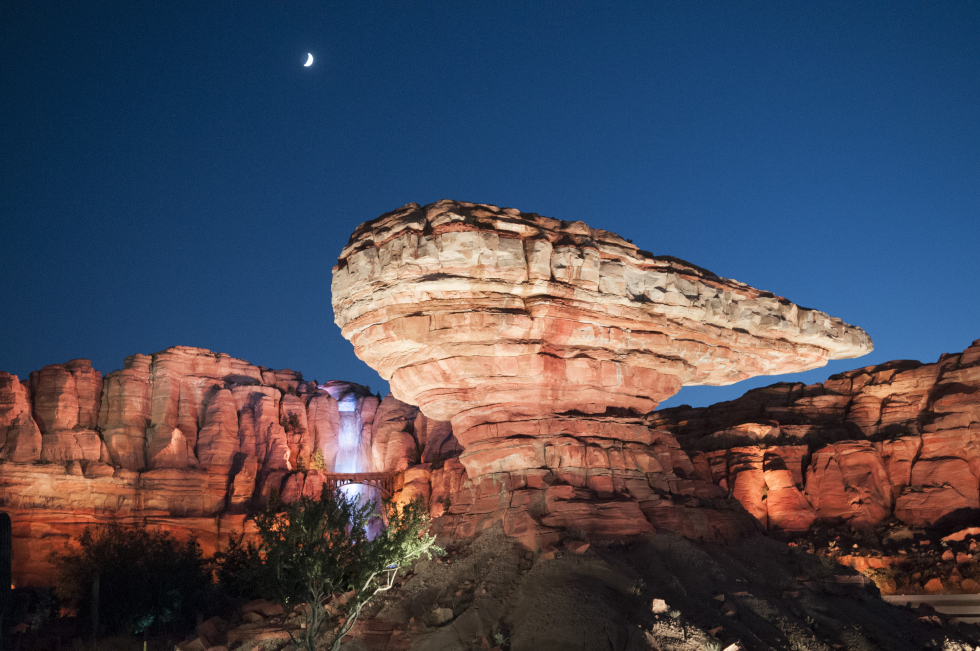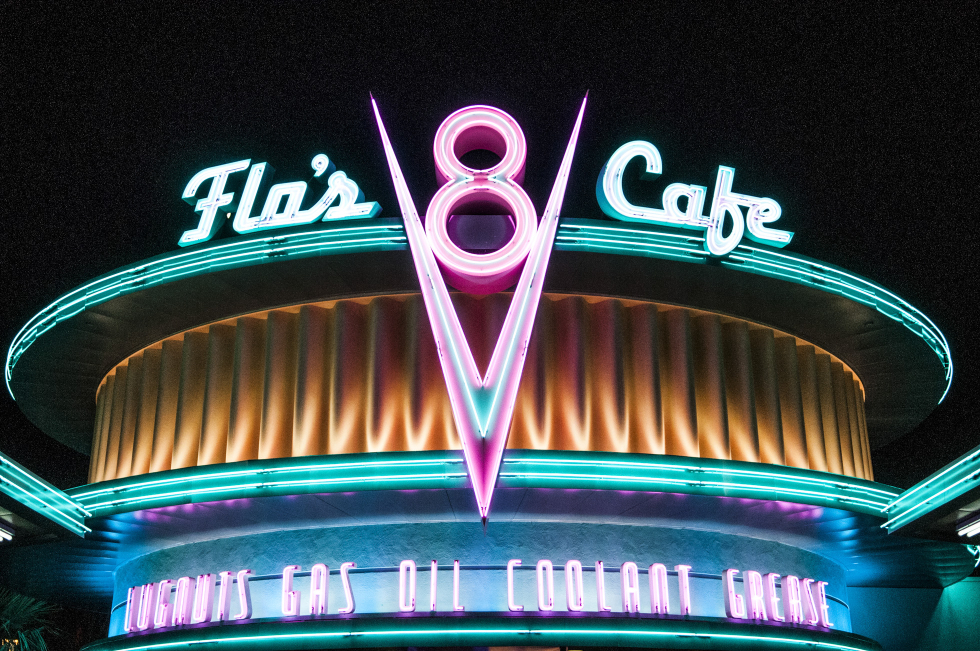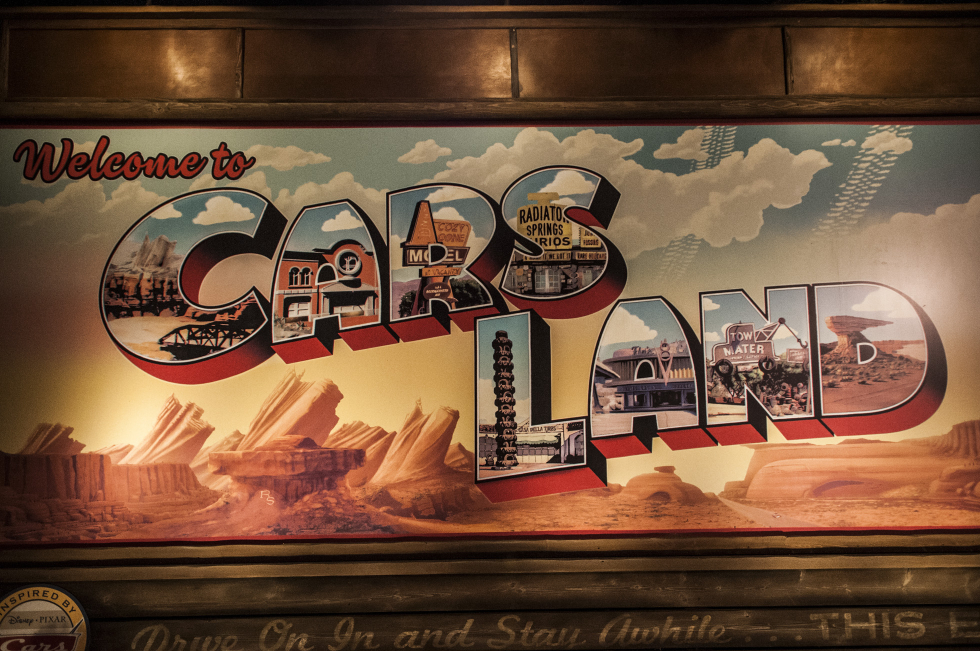 Day Three – Disneyland
The California park is the original Disneyland of Walt's creation so it was especially exciting. I'm always so happy to walk down Main Street towards the castle and take in the magic, the music, the perfect detailing and the scent of hot cinnamon waffles and vanilla in the air. How do they make everything so jolly?! There are many rides exclusive to this park so we had a wonderful time discovering them all. Loved their version of the Haunted Mansion, styled like a southern plantation estate and inspired by Disney's trip to the Winchester Mystery House in San Jose (which we also visited the following week). Amazingly we managed to time our trip with the space shuttle Endeavour's final flight before its retirement in Los Angeles and were lucky enough to be in the right place at the right time for the fly by over Disneyland (although very nearly missed it because we were riding Star Wars!).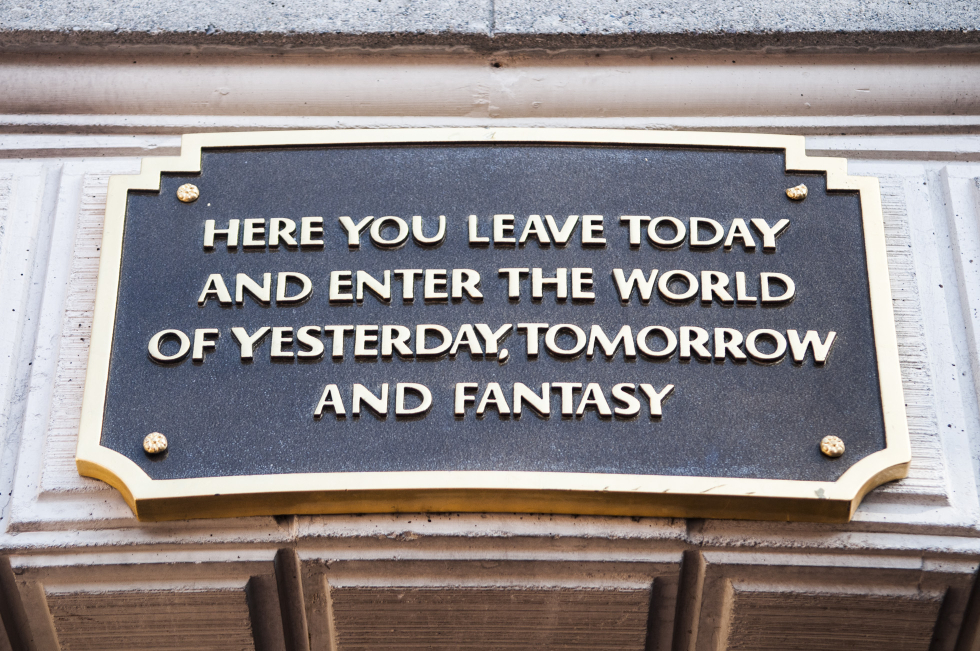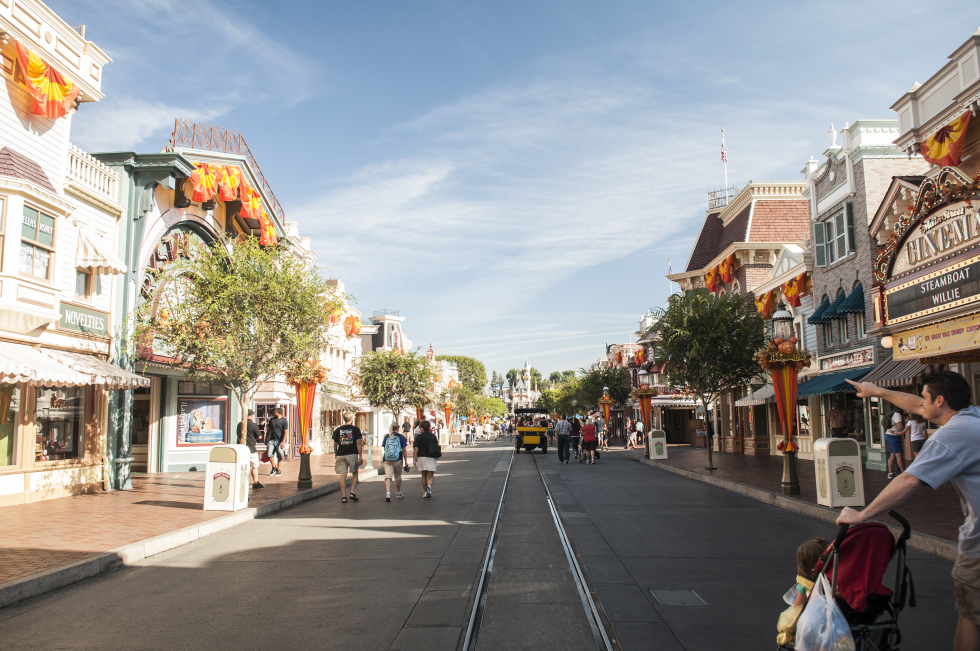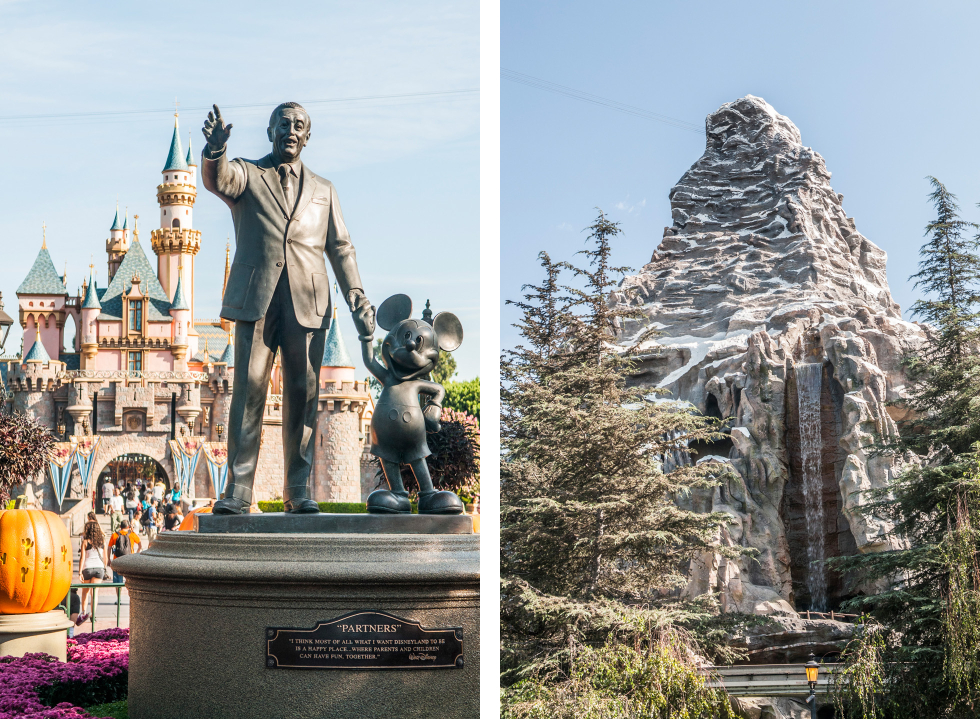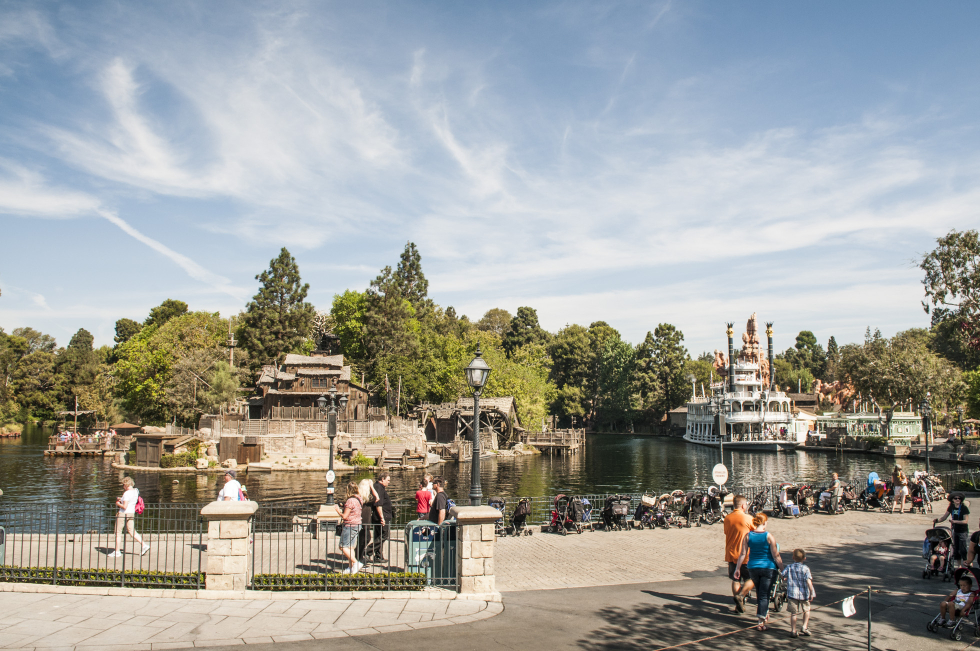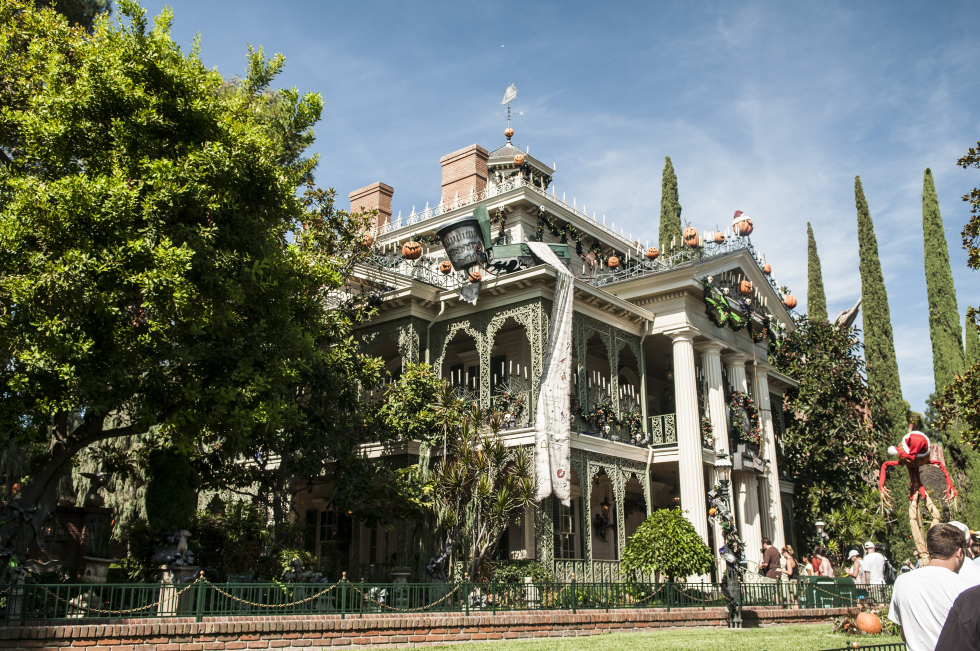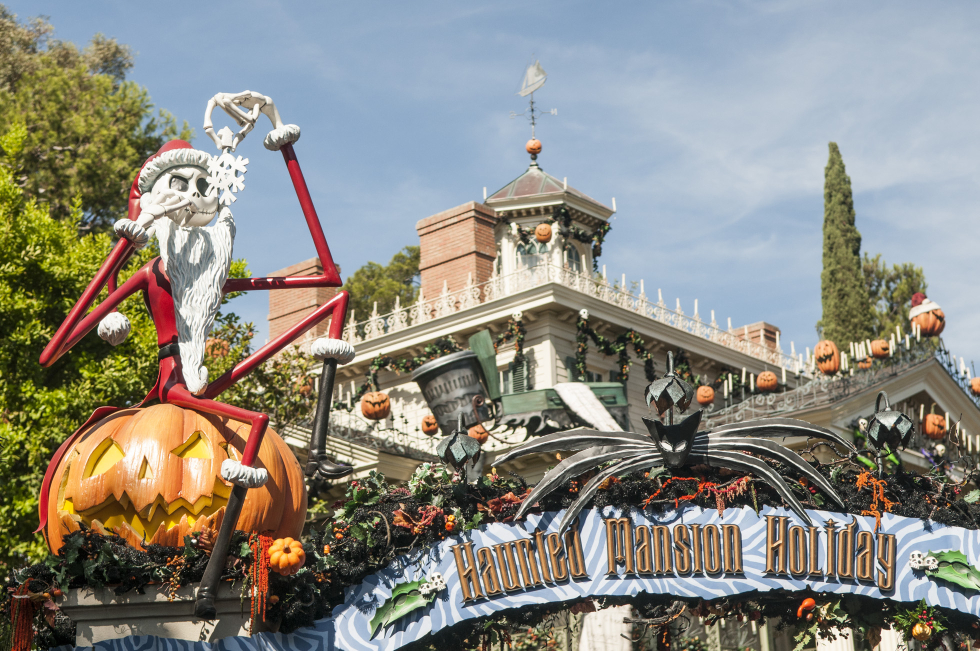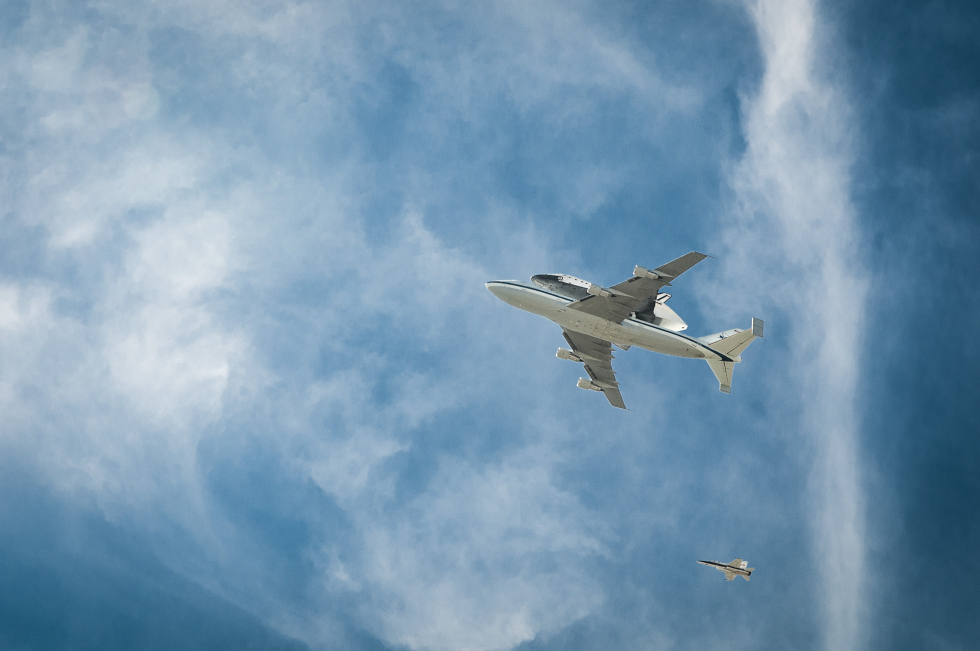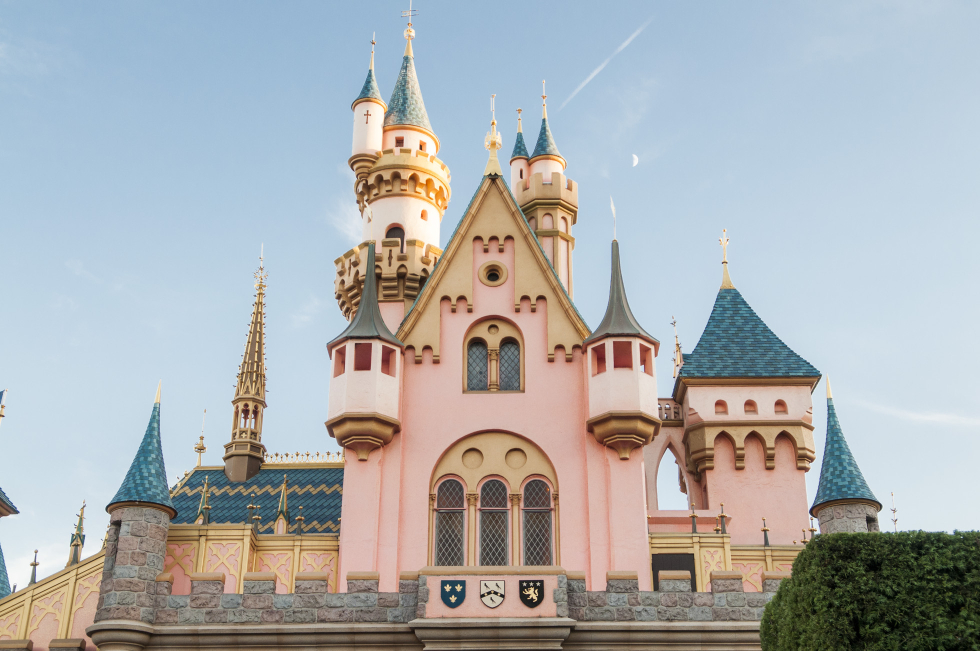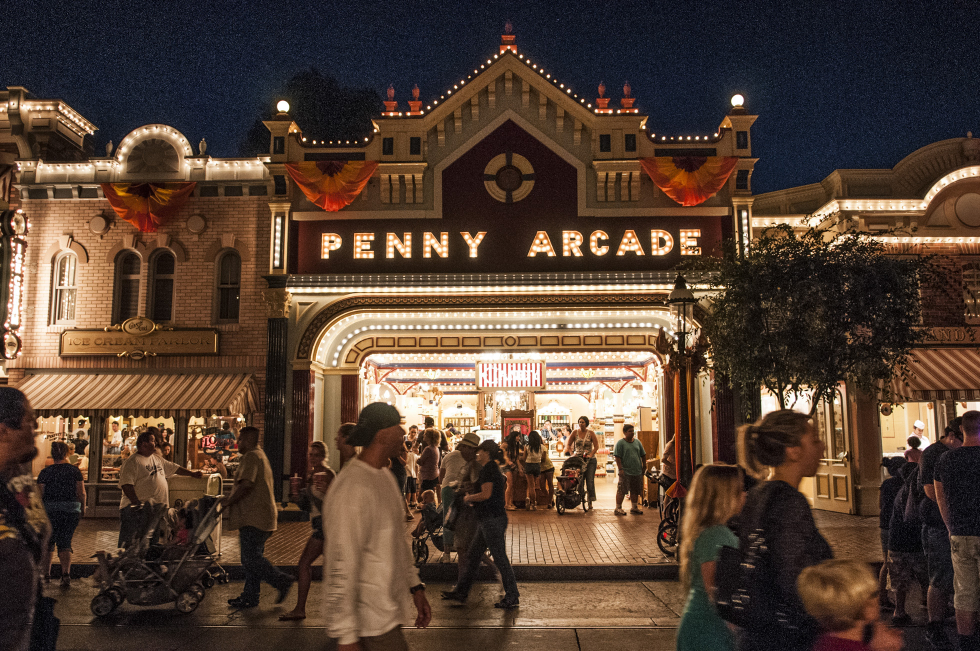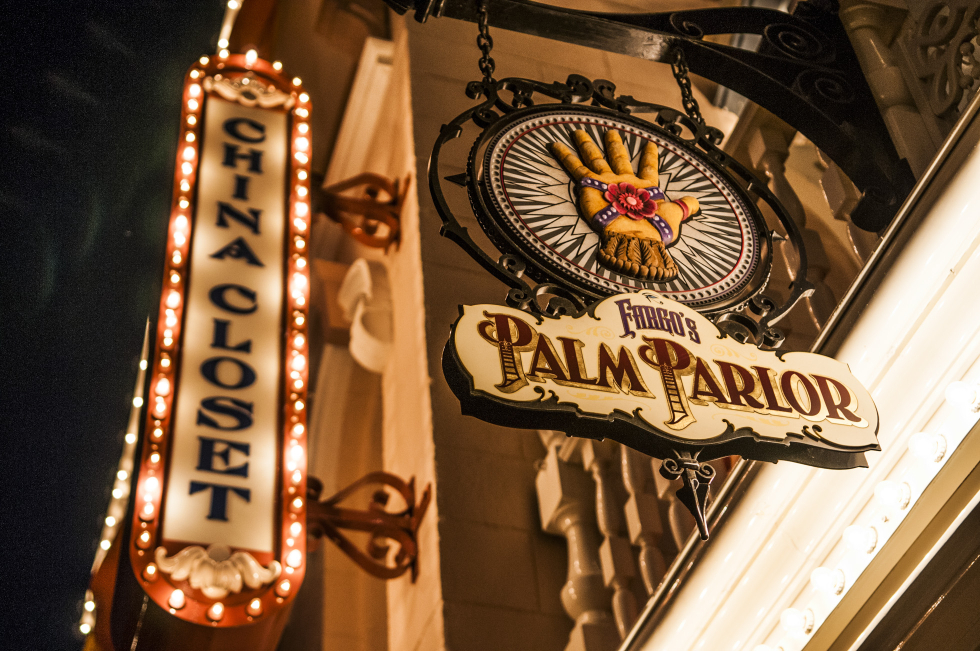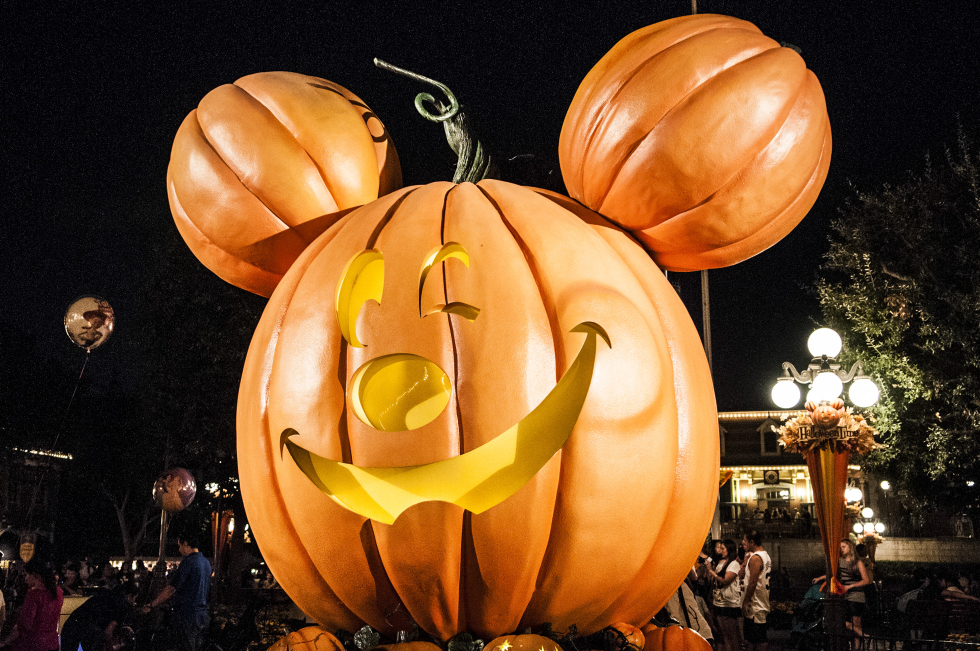 Days Four & Five – Santa Monica, Hollywood and Beverley Hills
We picked up the car and instantly managed to get lost in the only patch of industrial wasteland for miles but eventually we found the coast road and made our way to Santa Monica. Sunbathed, read, paddled, ate delicious Wholefoods picnic, visited the farmers street markets, wandered along the pier (it was mostly closed last time as we visited out of season) and then realised I was turning pink so moved on to the next hotel. We had a bit of an eventful drive, not realising until we were balanced precariously at the top of a Hollywood hill that neither of us knew how to hill start an automatic! Thankfully we made it with a lot of screeching & jerking and just about avoided taking out the line of cars behind us. We also faffed up getting into the hotel car park… LA traffic is pretty unforgiving! After checking in & dropping the cases we headed up to the Griffith Observatory for their monthly star party. The views of LA all lit up at night were incredible but in the chaos I forgot my camera. What a numpty. Day five was Sunset Boulevard in the blazing sunshine and Beverley Hills, where we explored the homes of old Hollywood movie stars in the streets around Rodeo Drive. The evening was drinks at the Standard and stopping for vanilla cokes & cherry pie at Mel's Diner where they were all out of pie. Next time…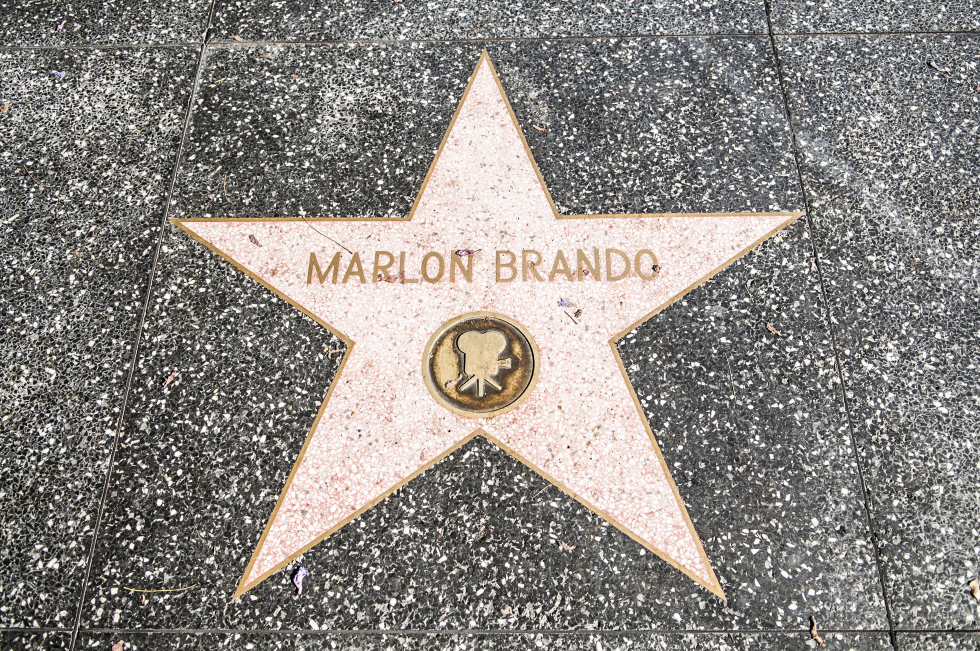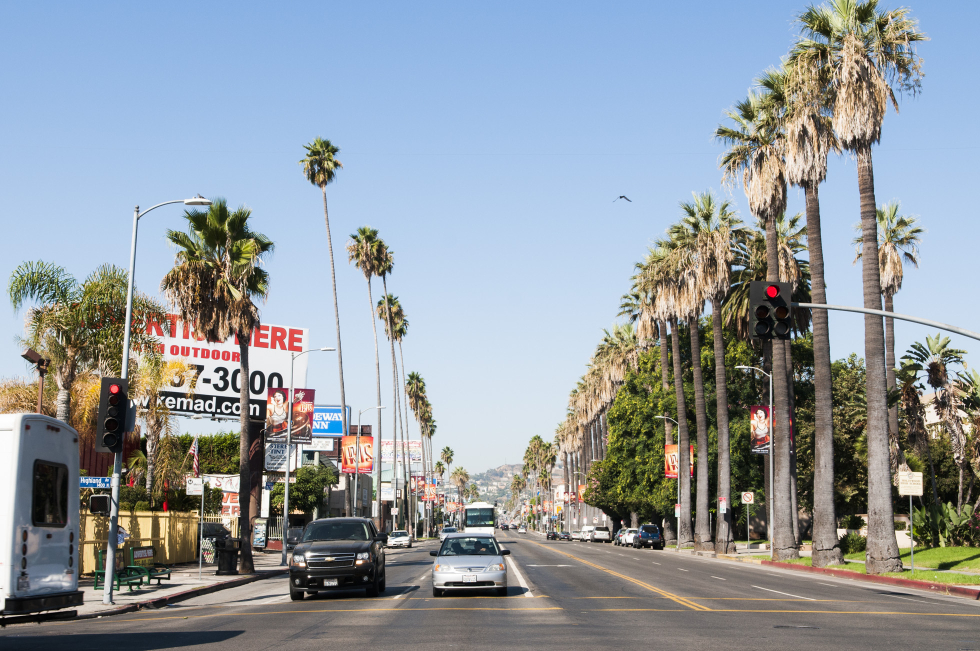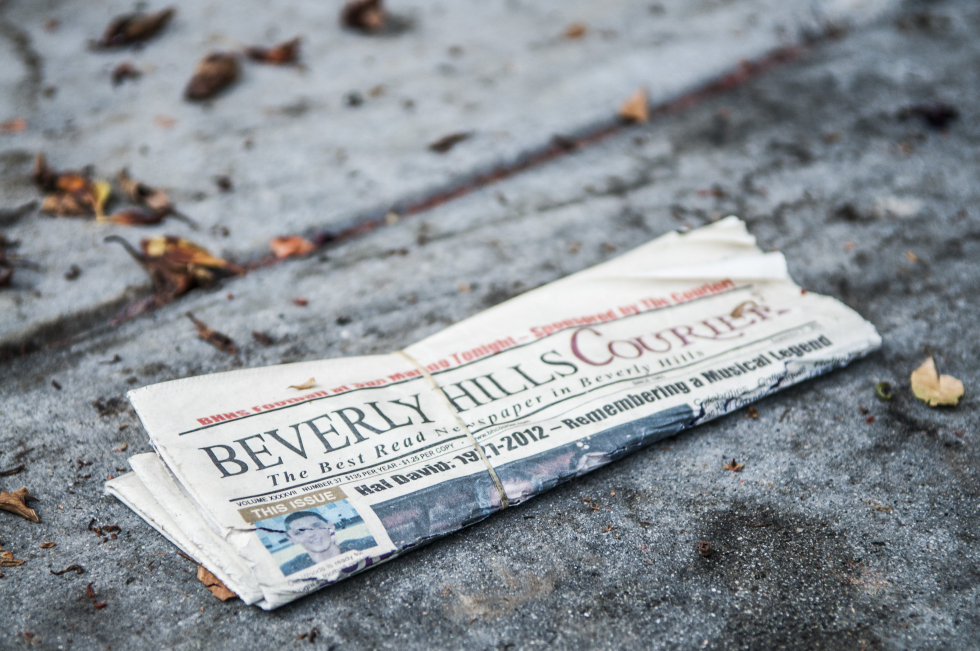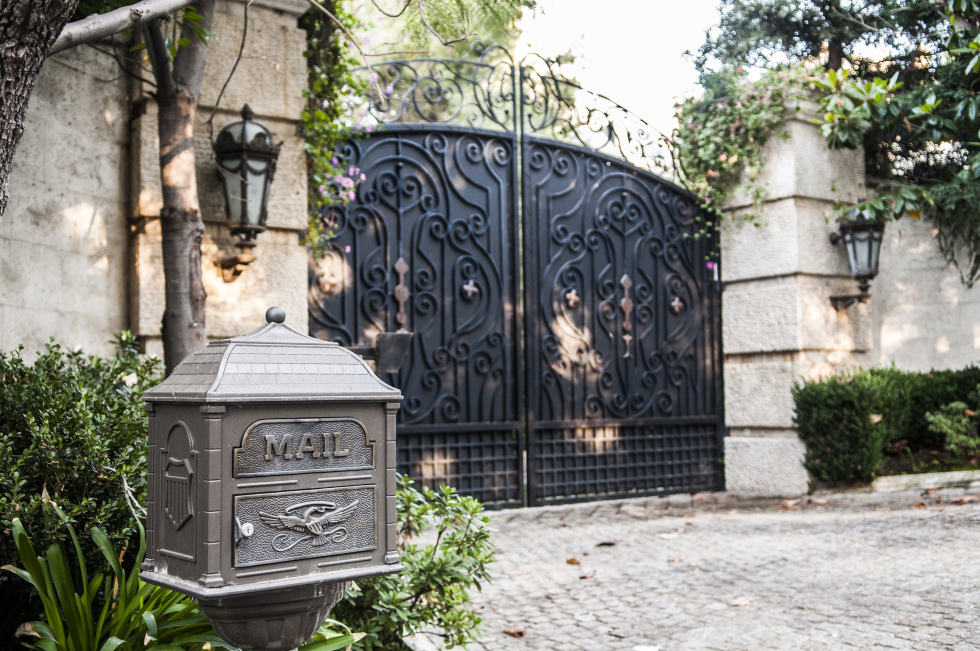 Day Six – Universal Studios & Mulholland Drive
Today's highlights were: Touring the studio backlot by tram and catching Saving Mr Banks, the new Tom Hanks movie, being filmed. Getting my ride fix (Transformers, yay!). An awesome view of studio valley. And one special highlight for Chris – the MASSIVE beers! We did Mullholland drive at sunset, stopping the car to get out and admire the views and heard a rattlesnake somewhere in the dust. That night we ate for the final time at our favourite restaurant,
The Veggie Grill
. If you are ever in Los Angeles I can recommend nowhere better. If they start serving breakfast I'm moving there, no doubt.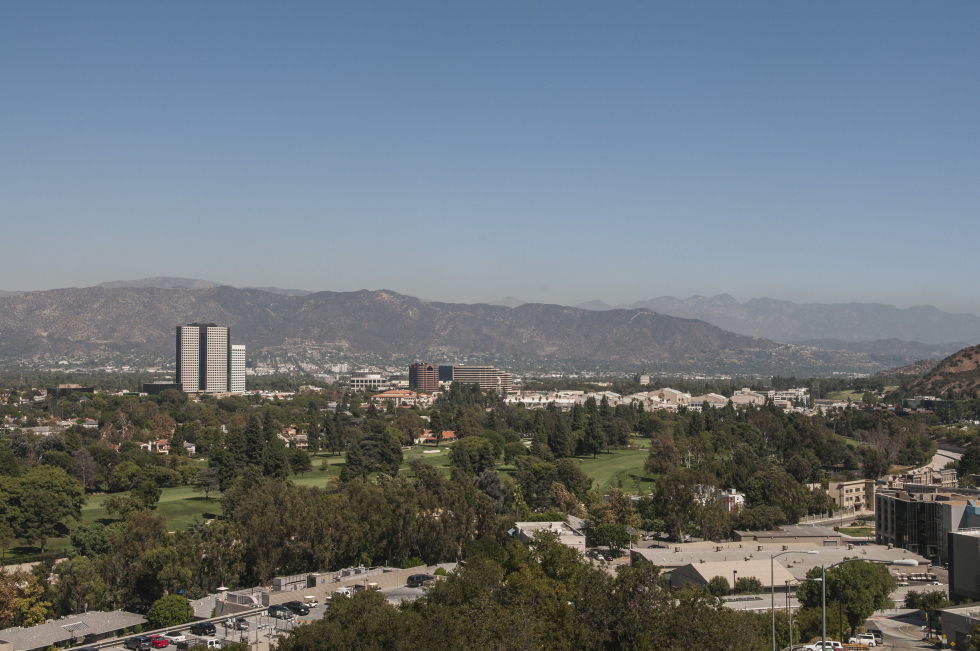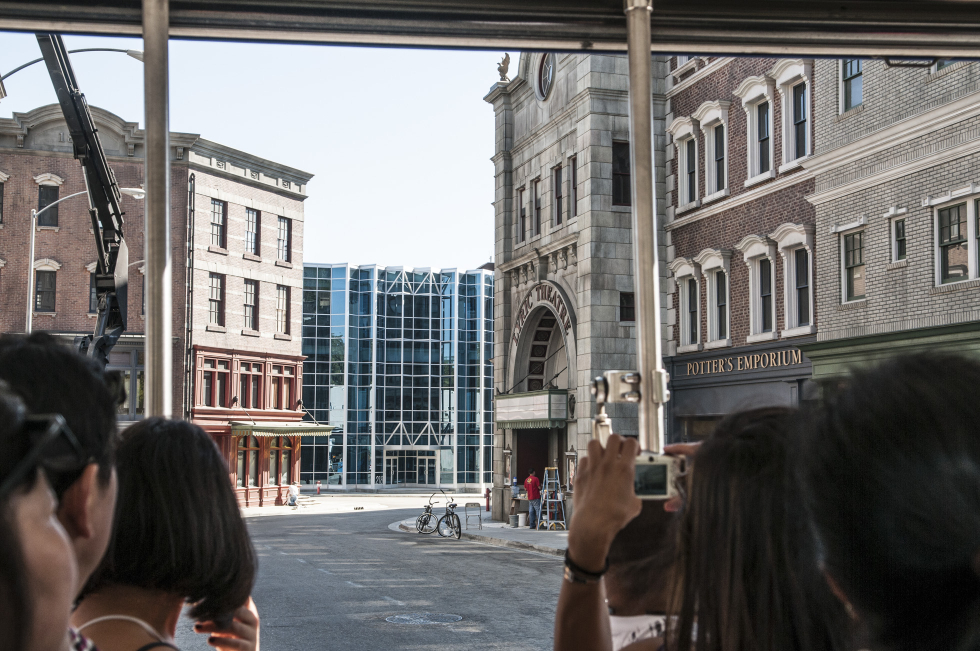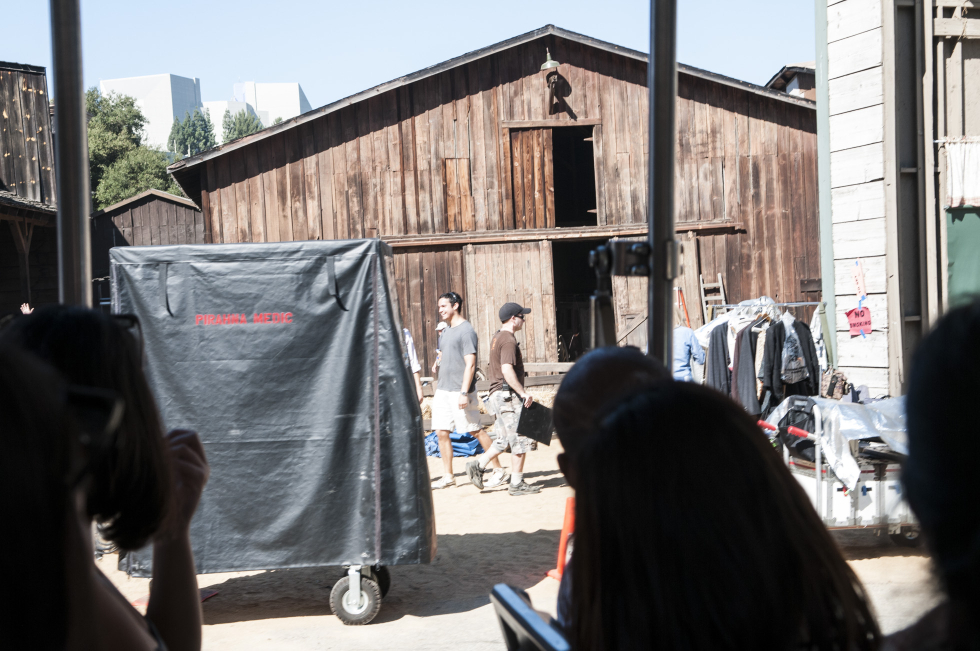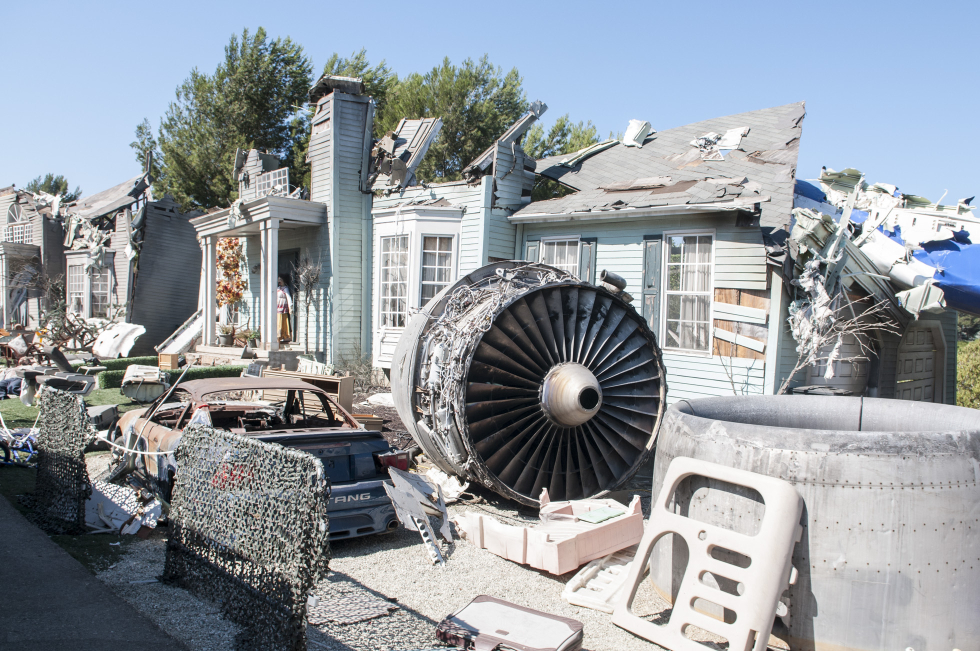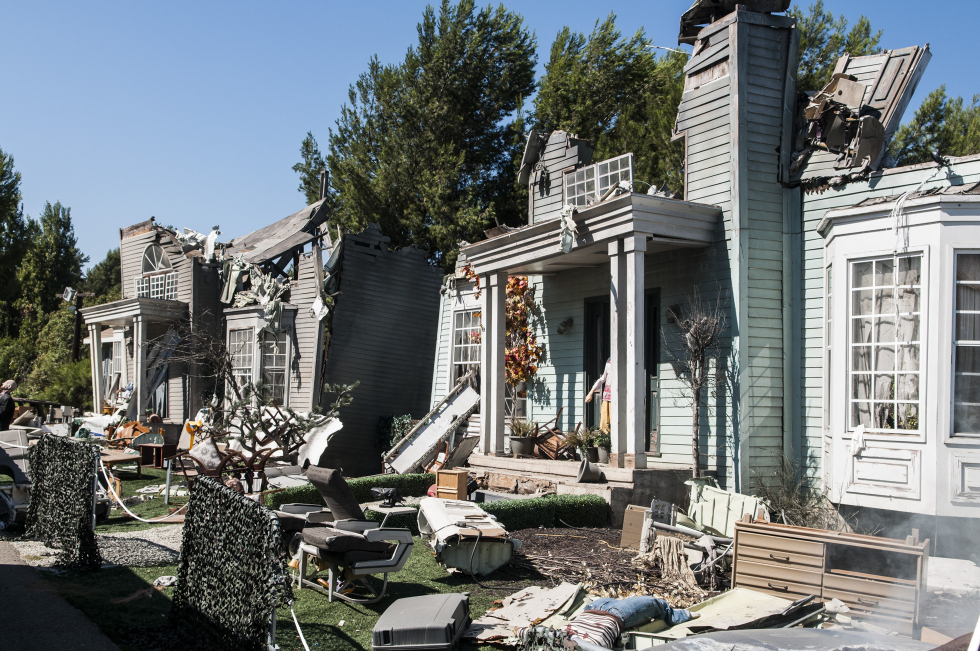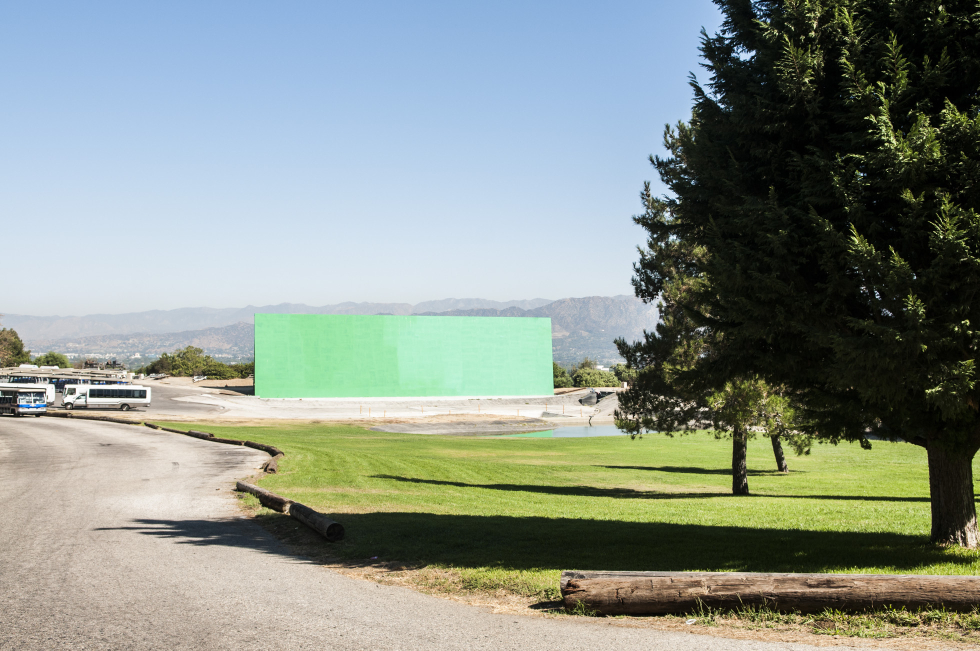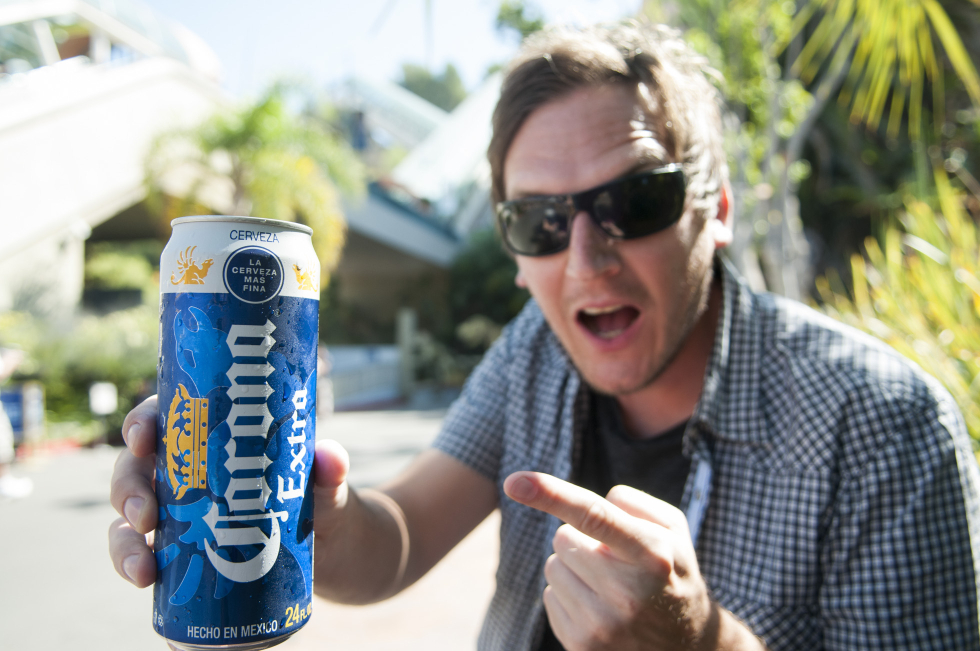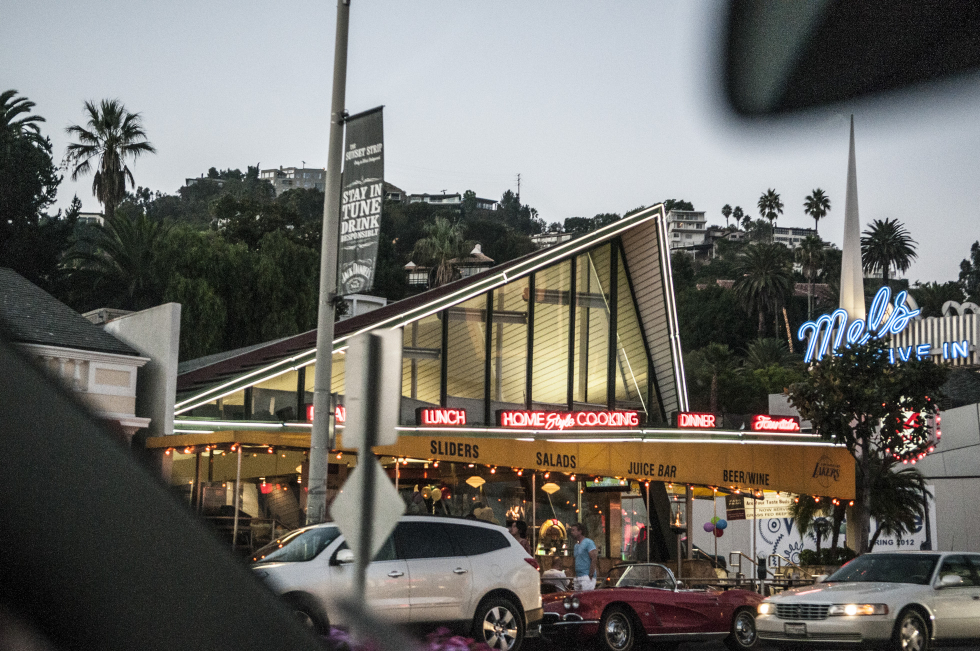 Day Seven – Los Angeles to Sequoia National Park
Leaving the city and heading out to the wilderness (via a Walmart for supplies). Bluegrass radio, roadside mailboxes, farm country and wild pomegranates growing on ranch fences in the middle of nowhere. Gaining elevation on narrow mountain roads, the high sierras, peaceful streams and all of a sudden giant sequoia trees. We set up for the night at a beautiful campsite next to the river, locked everything in the bear proof locker and I created a cosy bedroom in the back of the SUV while Chris made fire like man!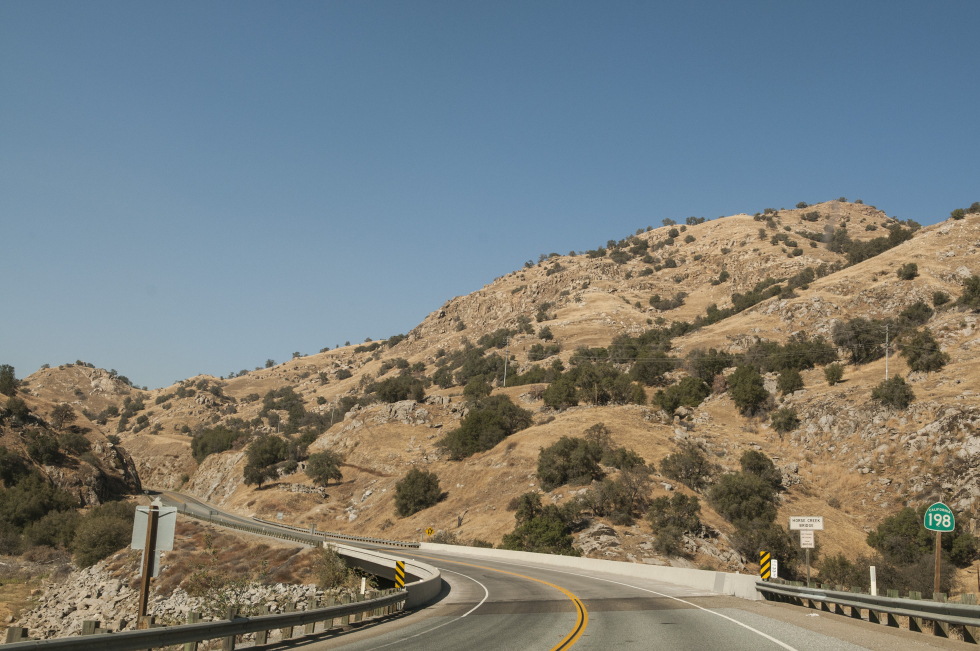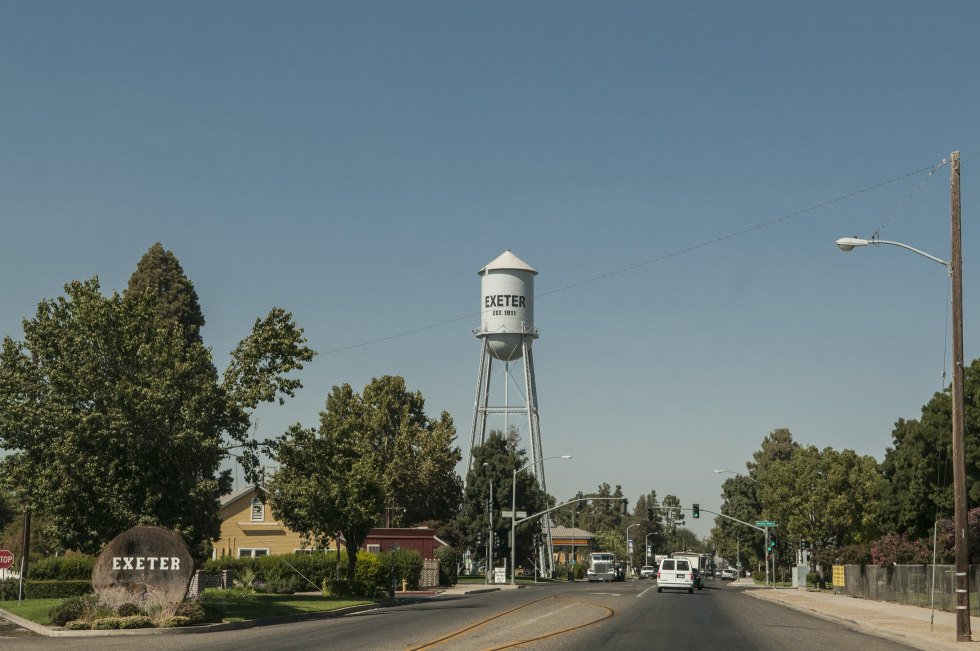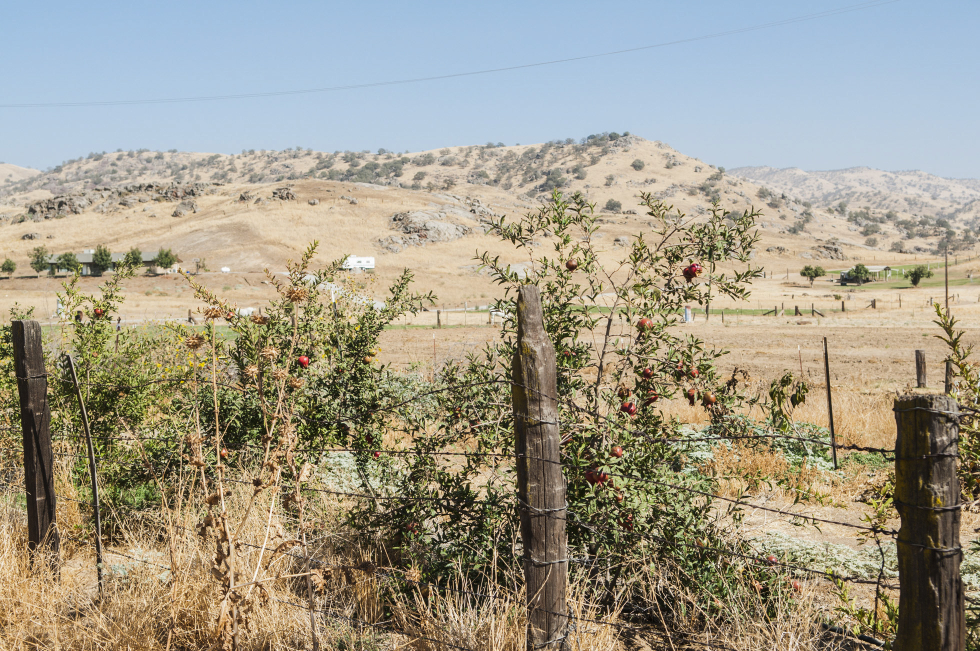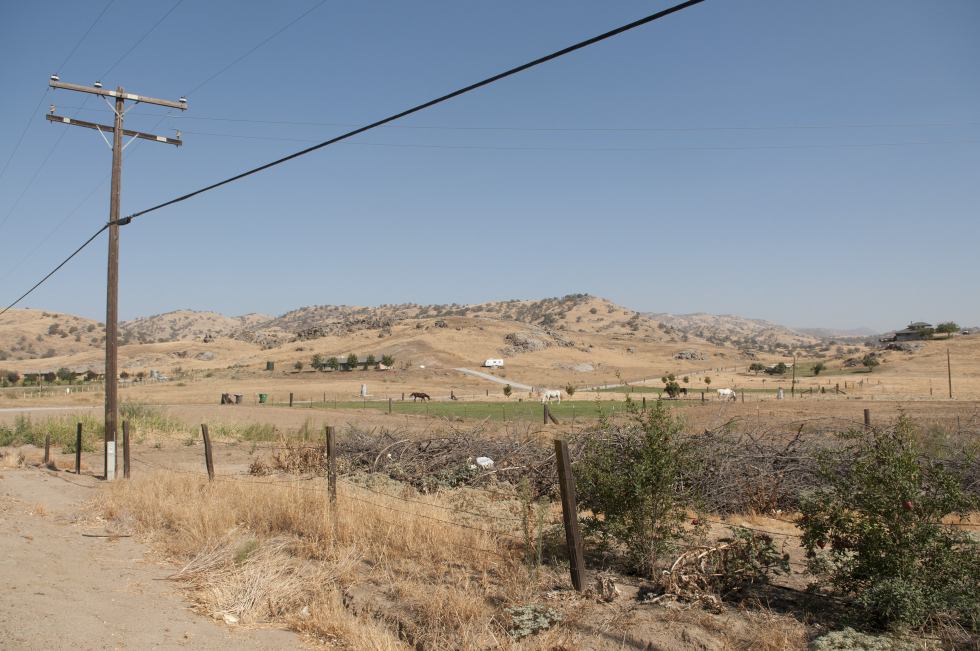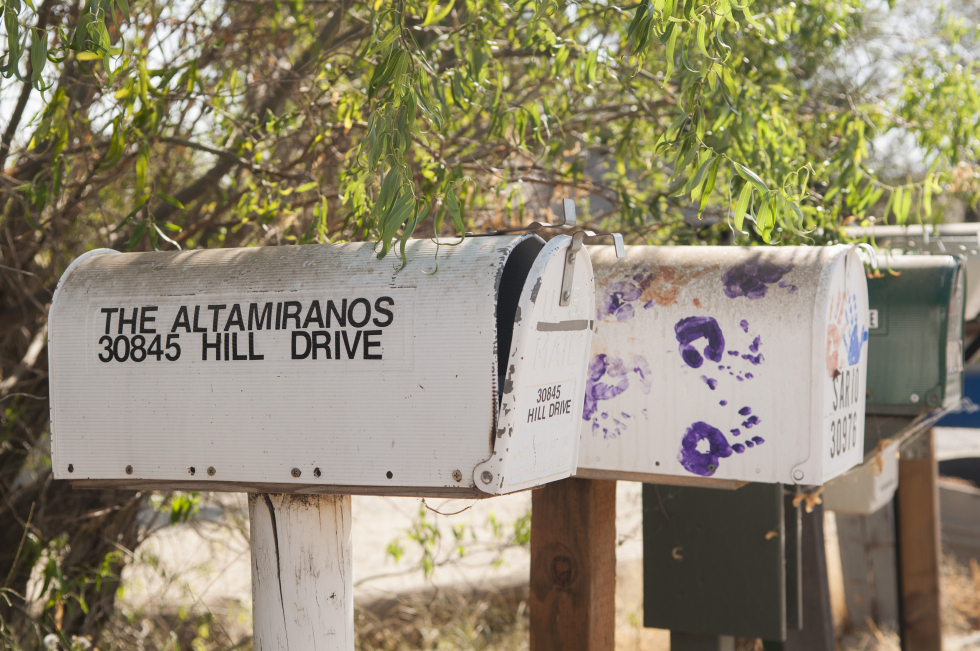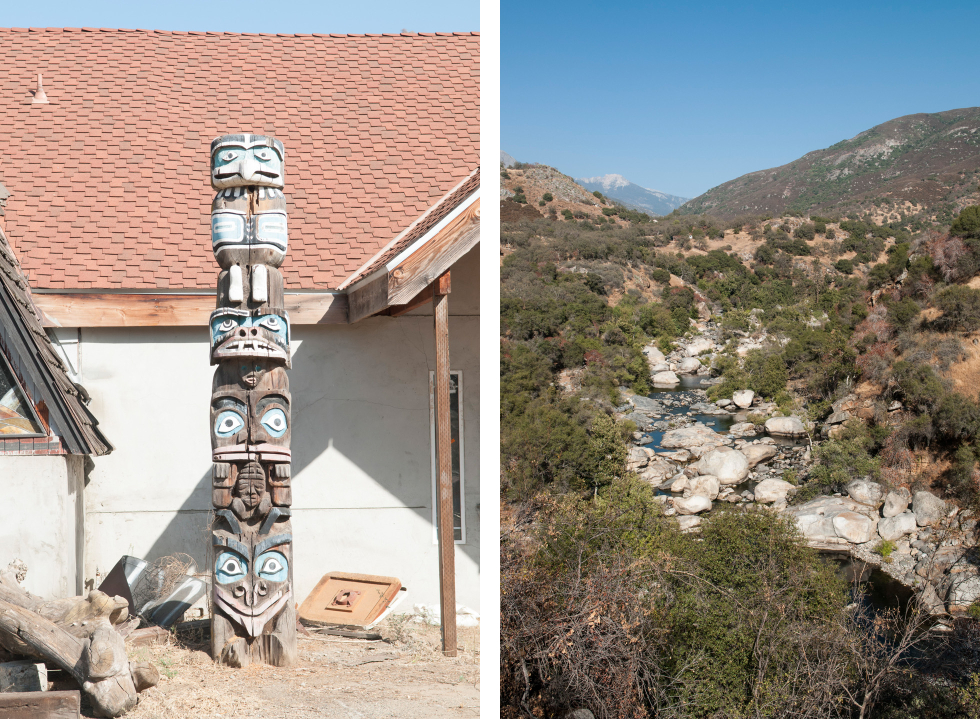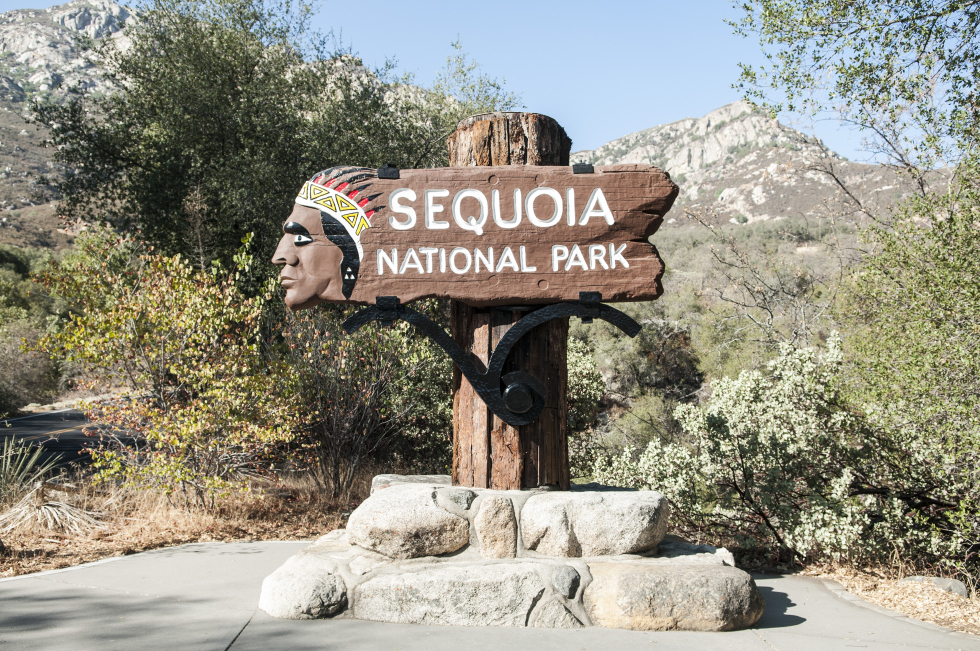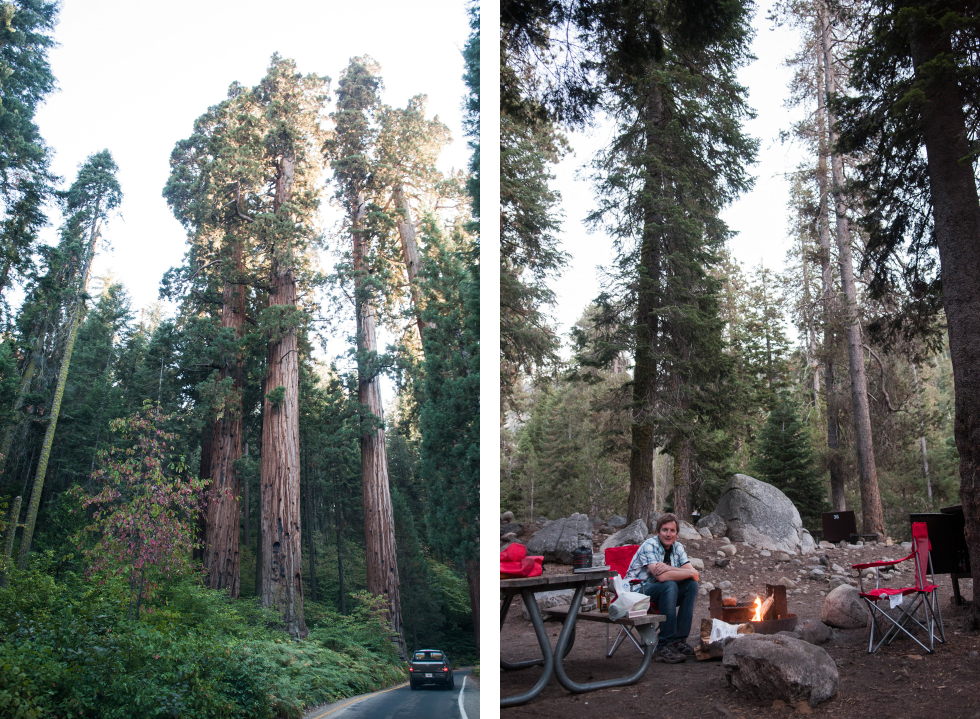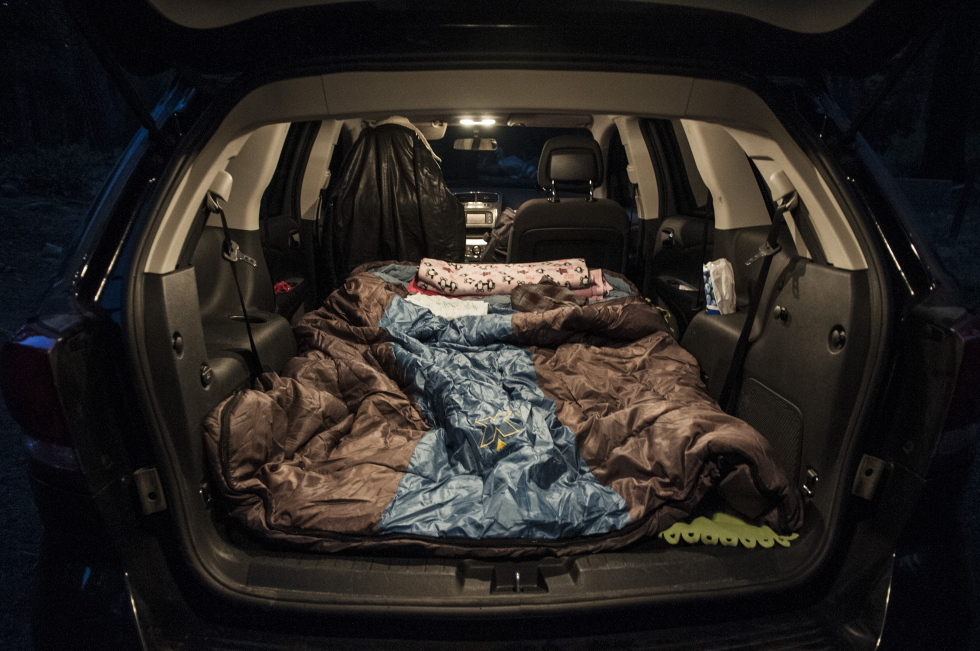 Day Eight – Sequoia to Yosemite National Park
We set off early for a morning hike up Moro Rock. Our time in Sequoia was limited so we decided to drive to the trail head. We passed the 'bears crossing' sign and pulled up to take a photo. Then out of nowhere, a BEAR! Absolutely AMAZING and the best moment of the holiday by far. He was ambling down the hiking trail without a care in the world. I only got one picture and it's rubbish but oh my gosh, so incredible to see a bear in the wild! We hiked the 400 precarious steps to the top of Moro Rock for total silence and beautiful views from the narrow granite precipice. We explored a meadow of giant sequoias, burnt and dusty with faint smoke from the controlled fires rising up through the forest. We met General Sherman, the largest living thing on Earth. Then four and a half hours later we had our first view of Yosemite through the car window as we popped out of the tunnel. El Capitan on the left and Half Dome in the distance. It's breathtaking in reality but impossible to show the scale here. I had wanted to share this with Chris for nearly four years and the moment was perfect.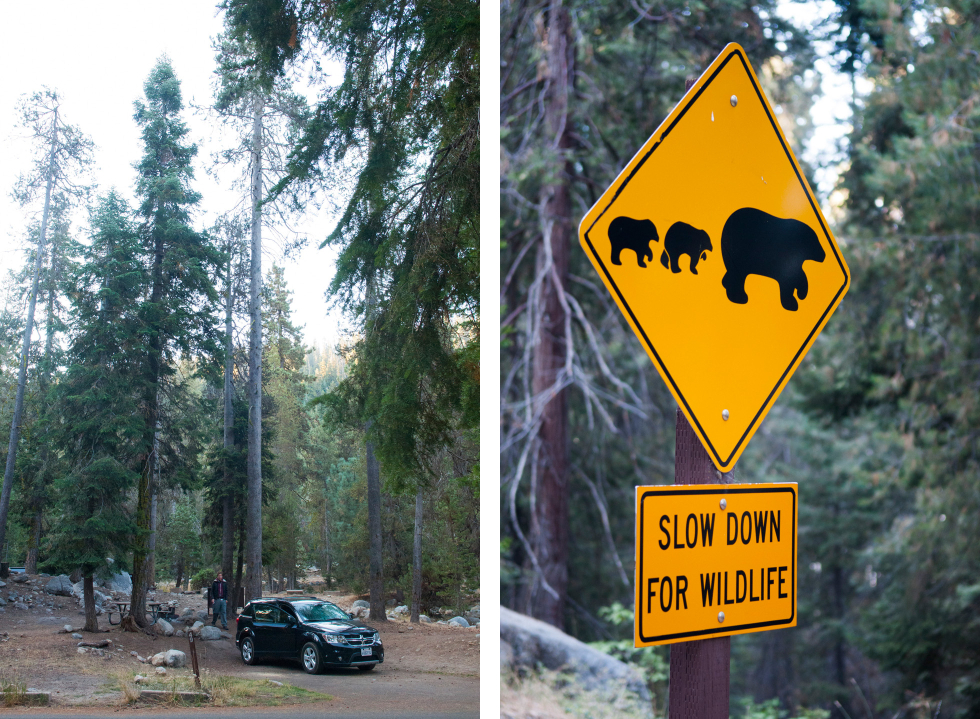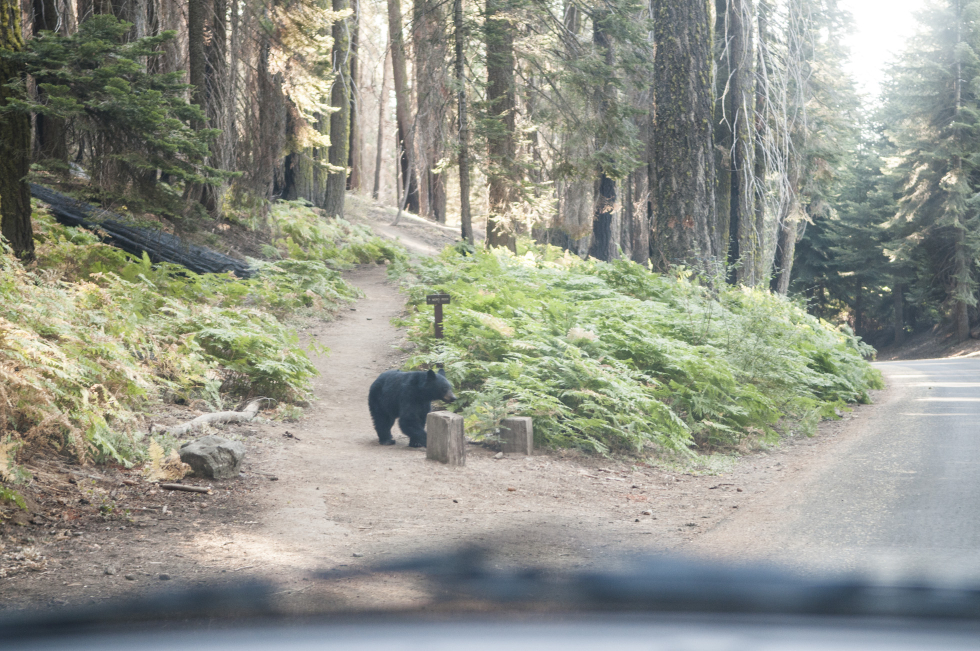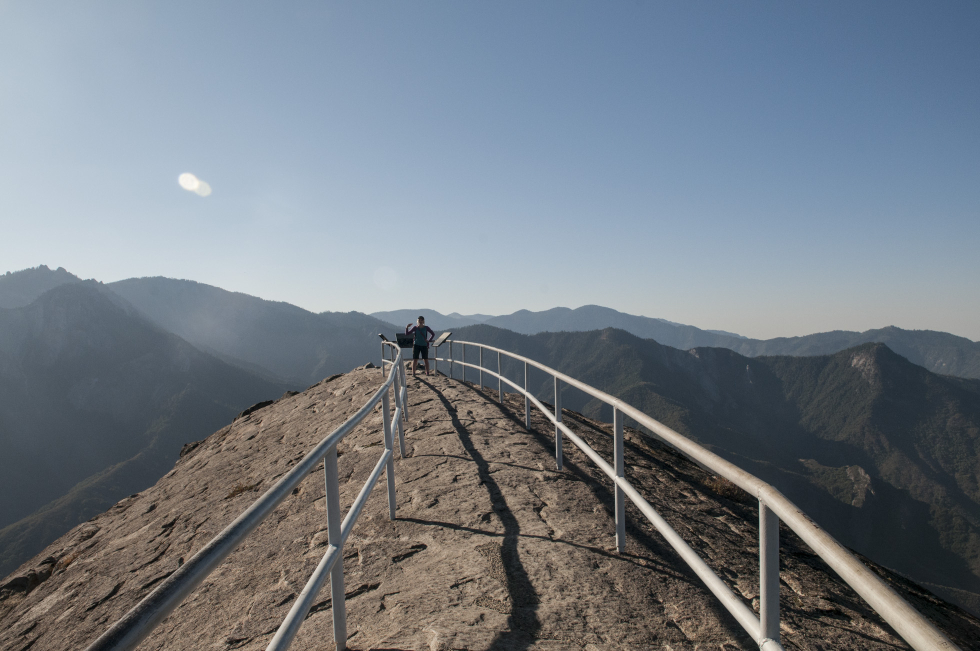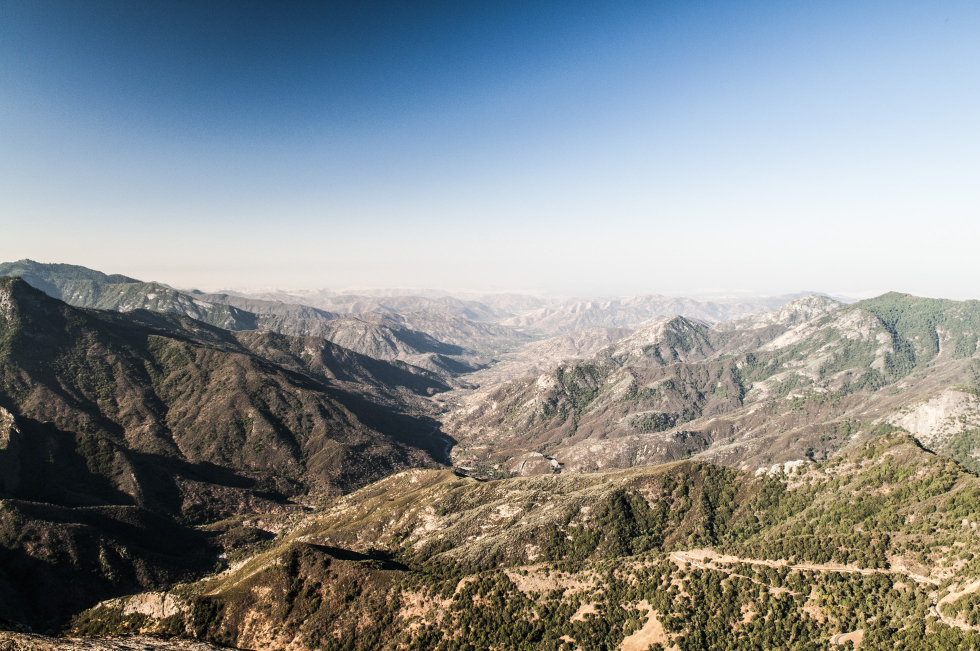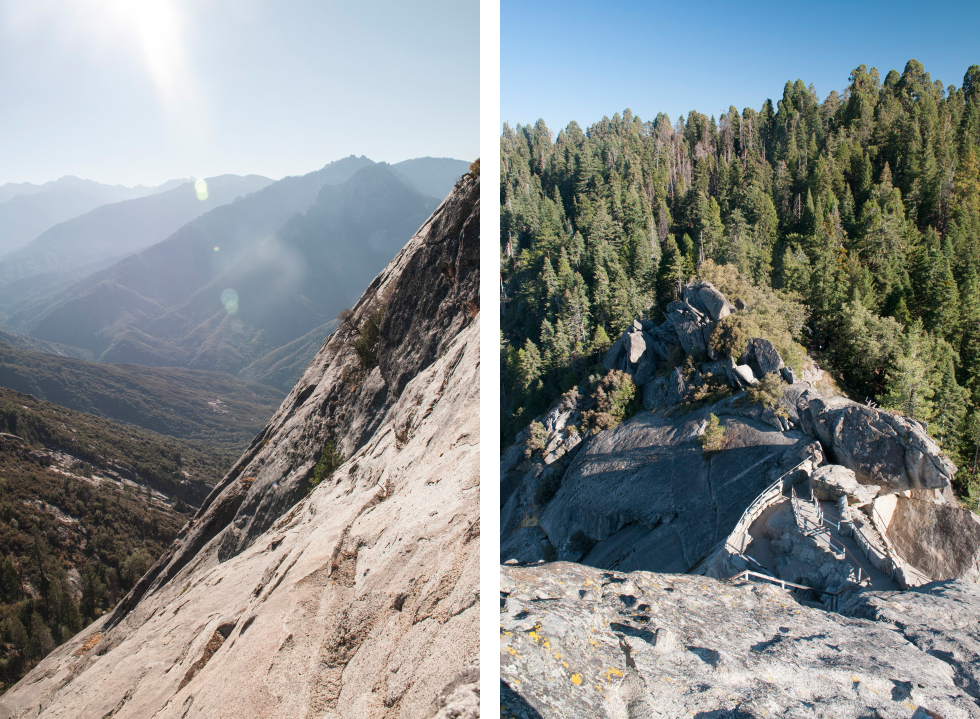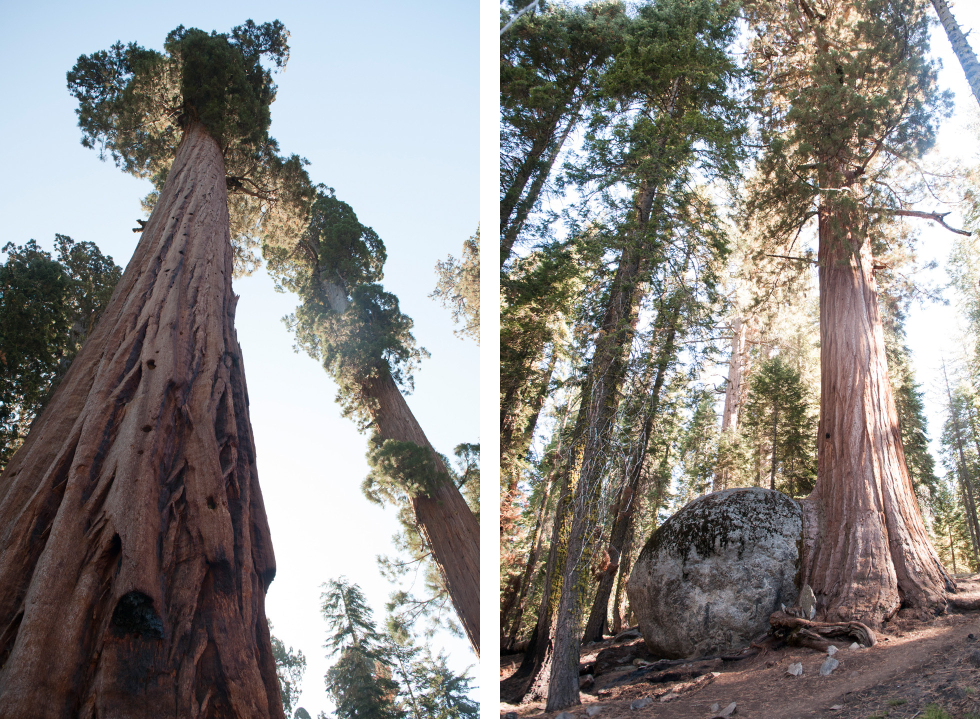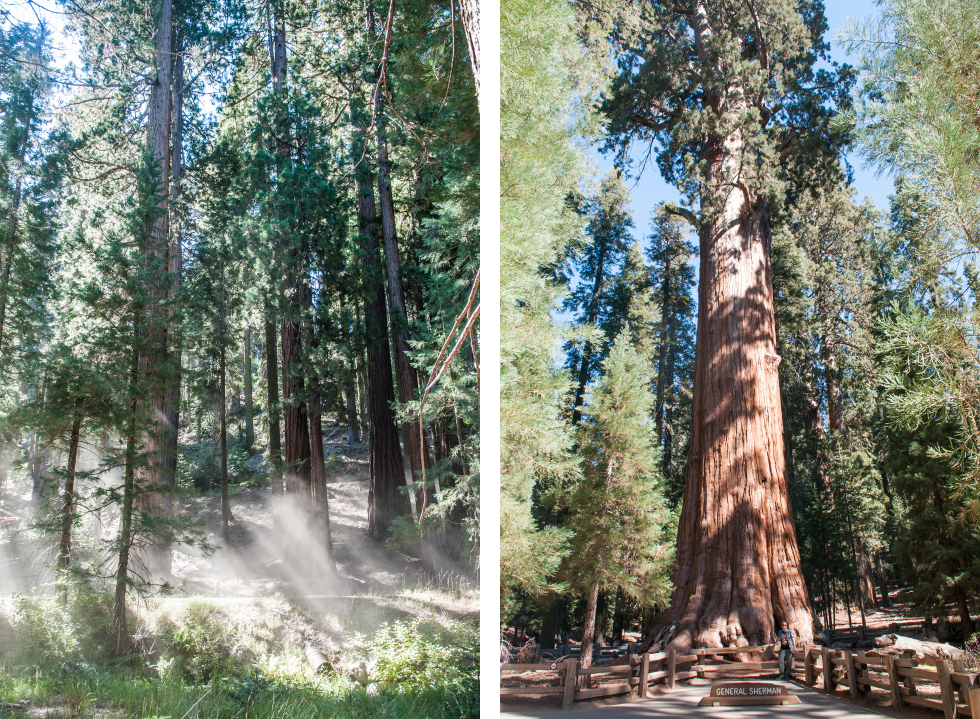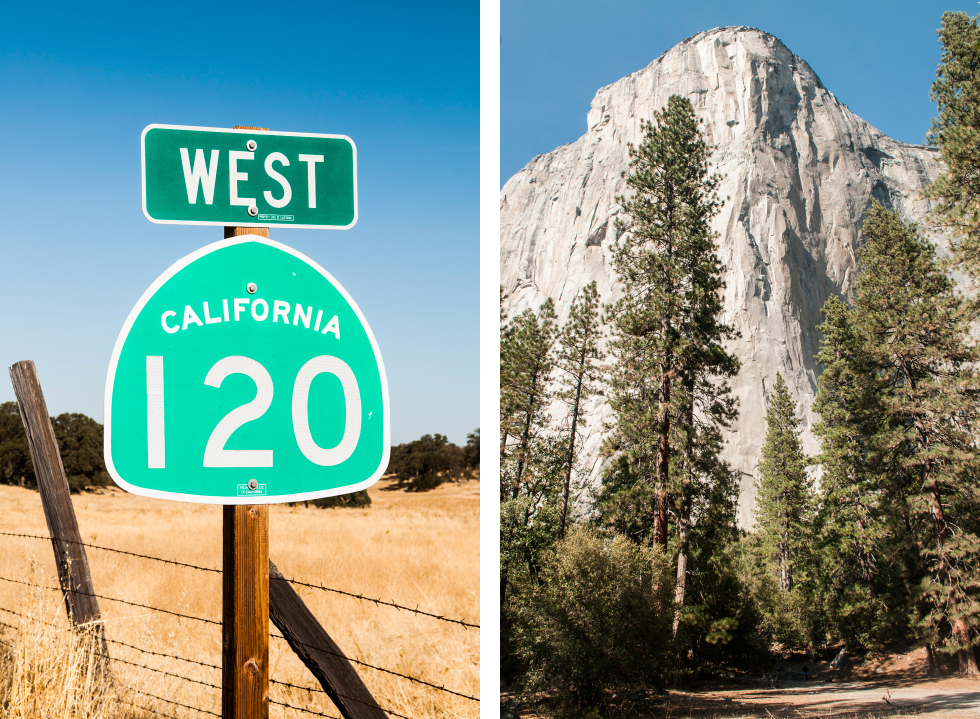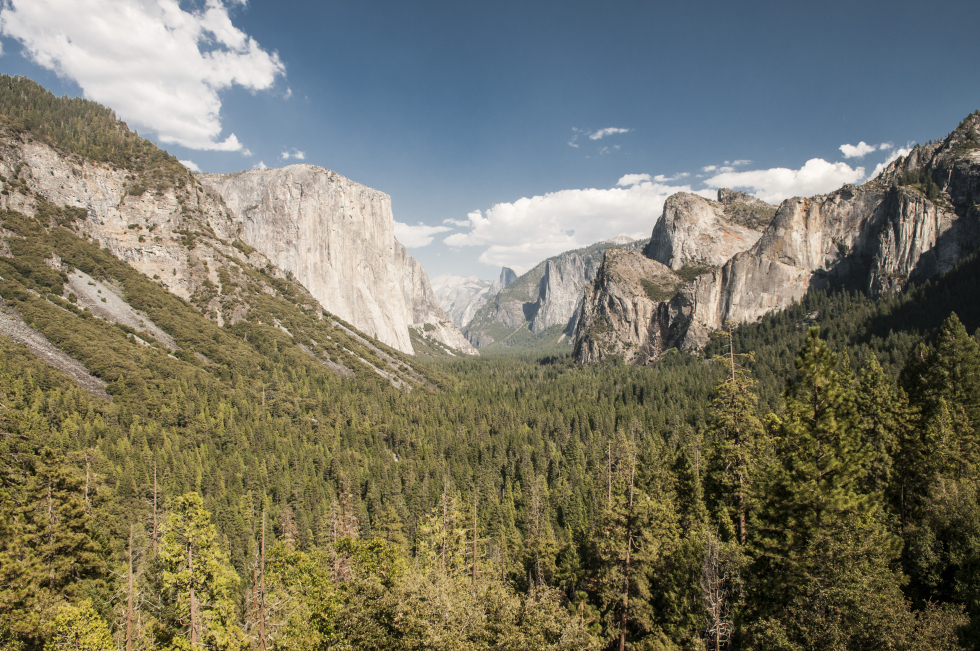 Day Nine – Glacier Point
The day of the 22 mile hike! Up super early and was lucky to hike the first half a mile behind a coyote. The hike was mostly narrow switchbacks with a drop on one side and big rocks on the other. Every now & again some scree would come trickling down so I made lots of mental notes on good places to hide from rock falls! The views grew more & more spectacular around every corner. I'm sure it's boring to see so many mountain photos… you really had to be there to appreciate the scale & grandeur. A few hours later, 3500 feet above the valley floor, we were rewarded with breathtaking scenic vistas of Half Dome and the entire valley below. And wasps. Lots & lots of wasps. That evening we treated ourselves to a pizza at the camp village and watched a trio of cheeky raccoons stealing from tables. They scurried through the seating area in single file and we all thought it was absolutely hilarious until they ran off with one poor woman's handbag!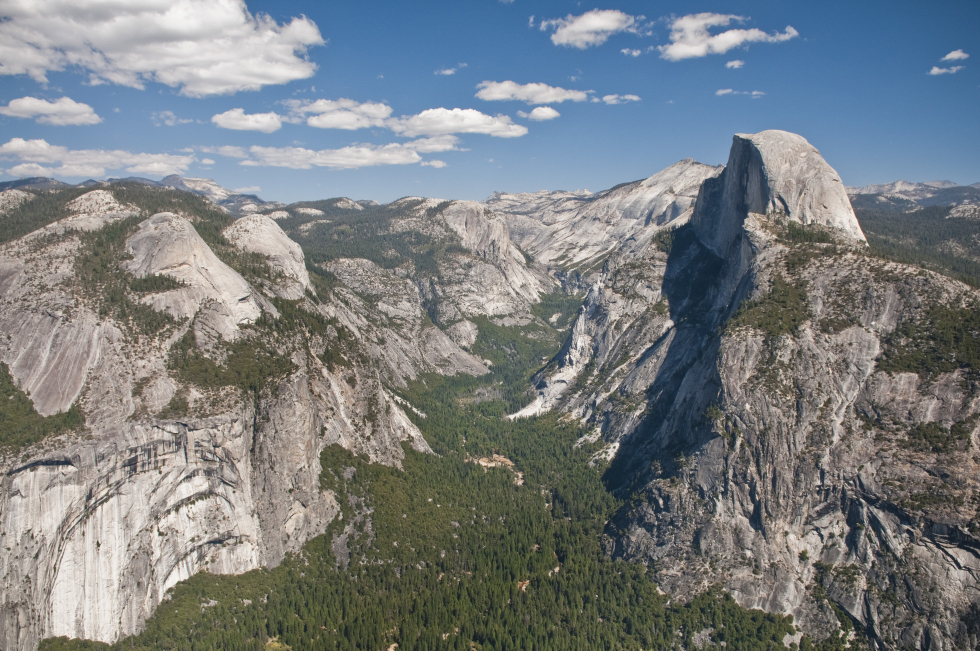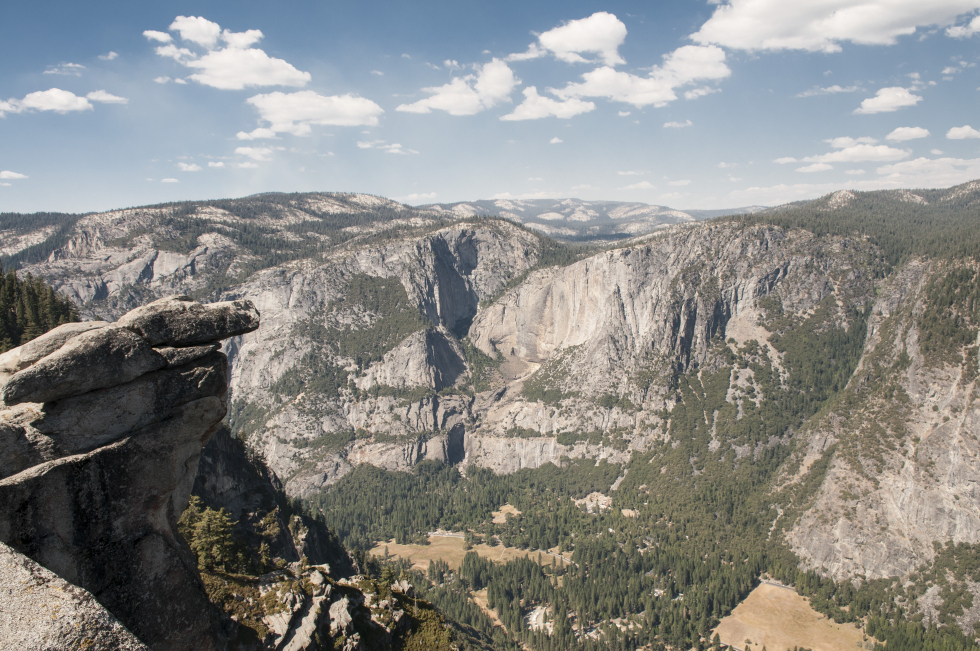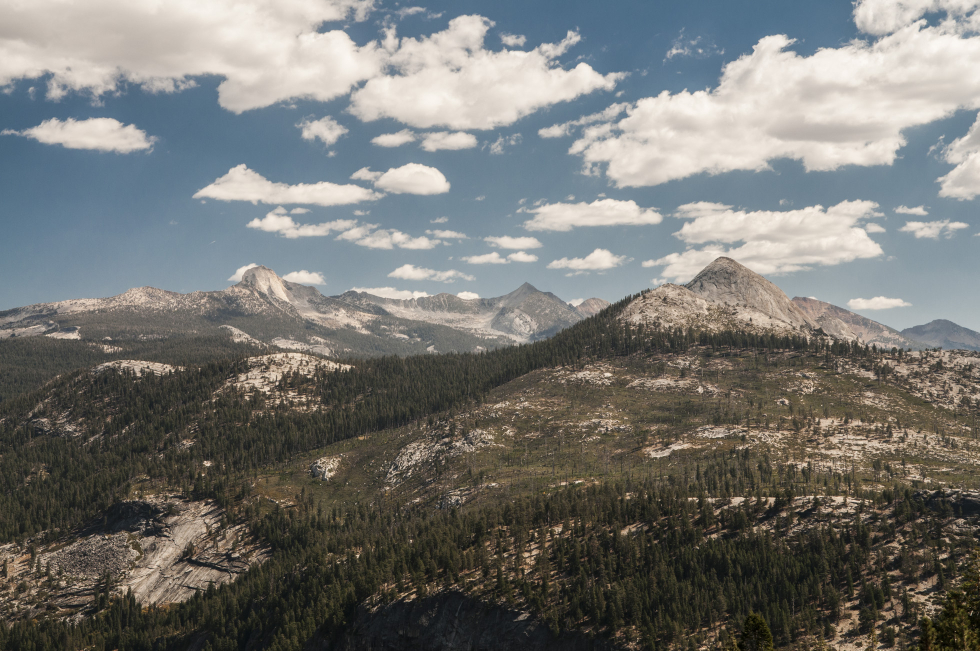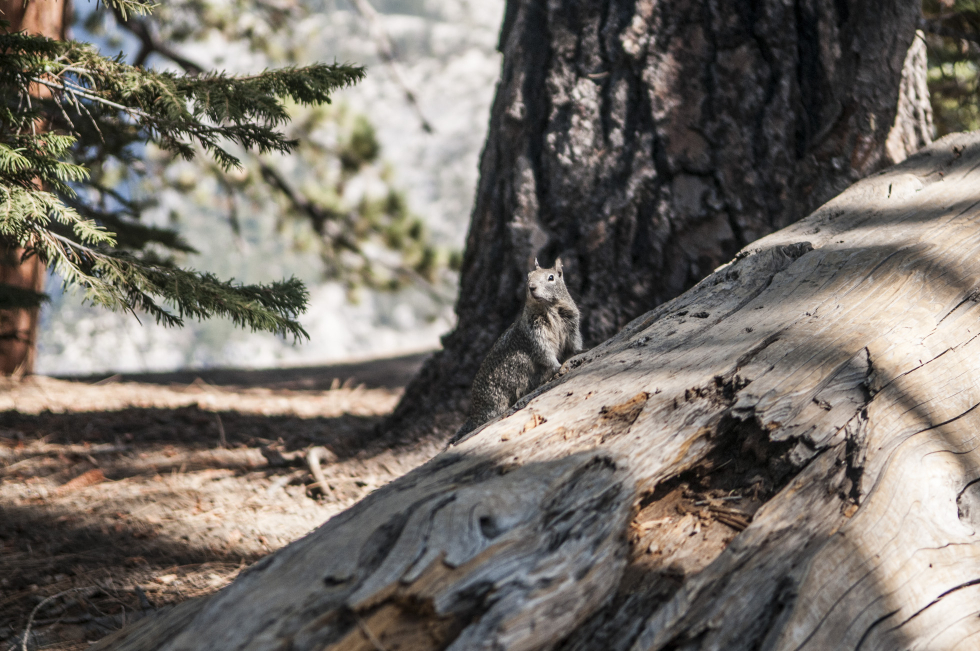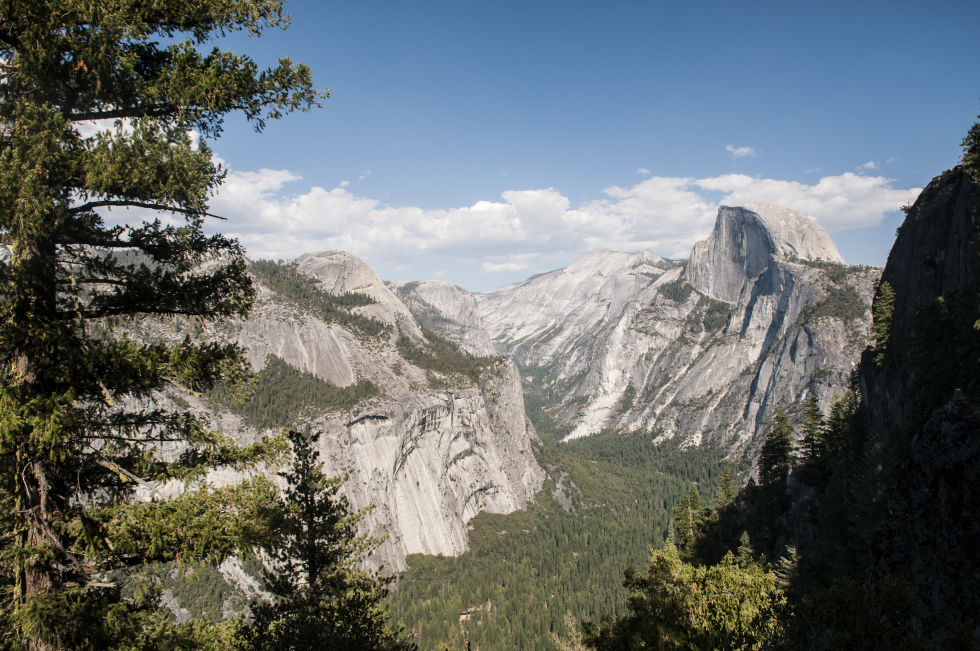 Days Ten & Eleven – Yosemite
Day ten was the best day! We ignored our aching legs, hired beach cruisers and cycled around the valley floor and it was just the most fun ever. Cycling through the meadows, getting dive bombed by dragon flies, dodging deer, a funny squirrel who raced alongside my bike for such a long while I felt like Snow White with my furry friend! On day eleven we hiked Vernal Falls and fought off yet more wasps. We also took a ranger led tram tour of the valley floor with all the American oldies which was very educational! Watched climbers scaling El Capitan with their enormous packs trailing behind them. Then back up to Glacier Point (in the car this time) for a sunset ranger talk. Fascinating, beautiful, the sun set behind us and a full moon popped up over the mountain range behind Half Dome. Perfect!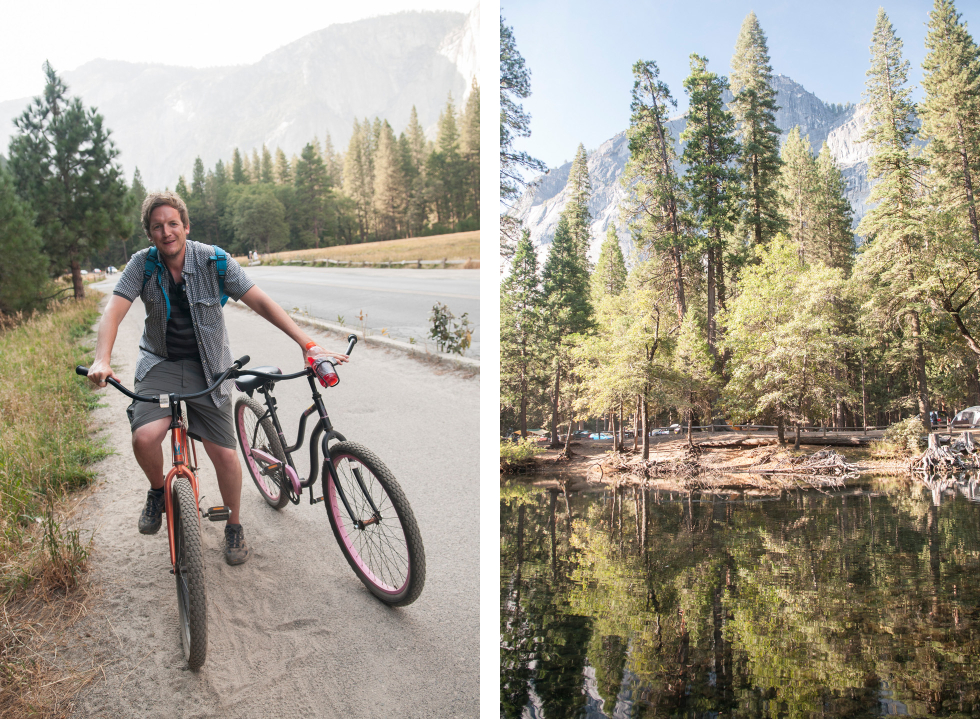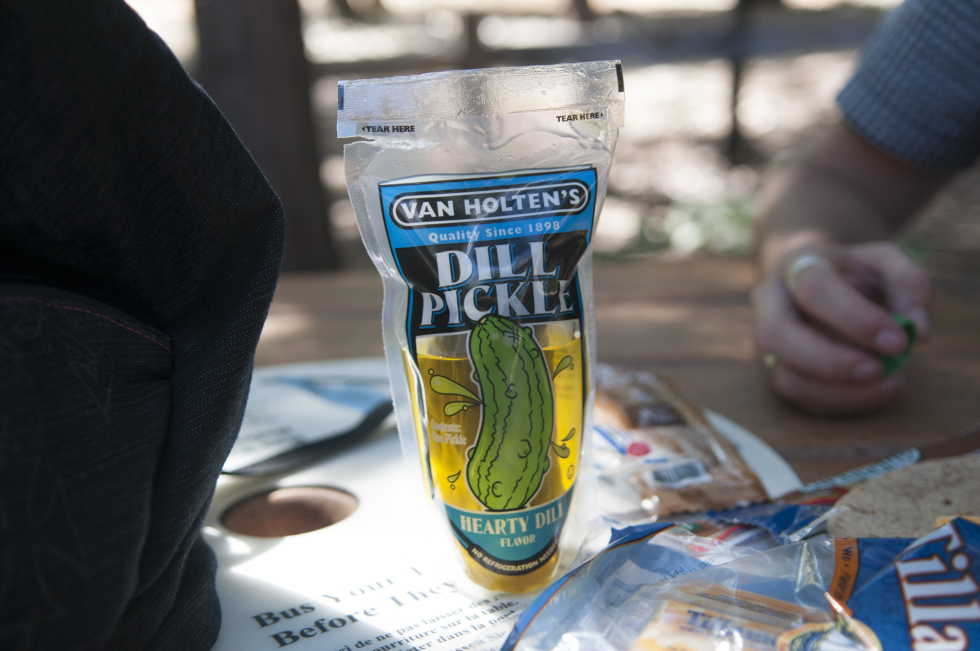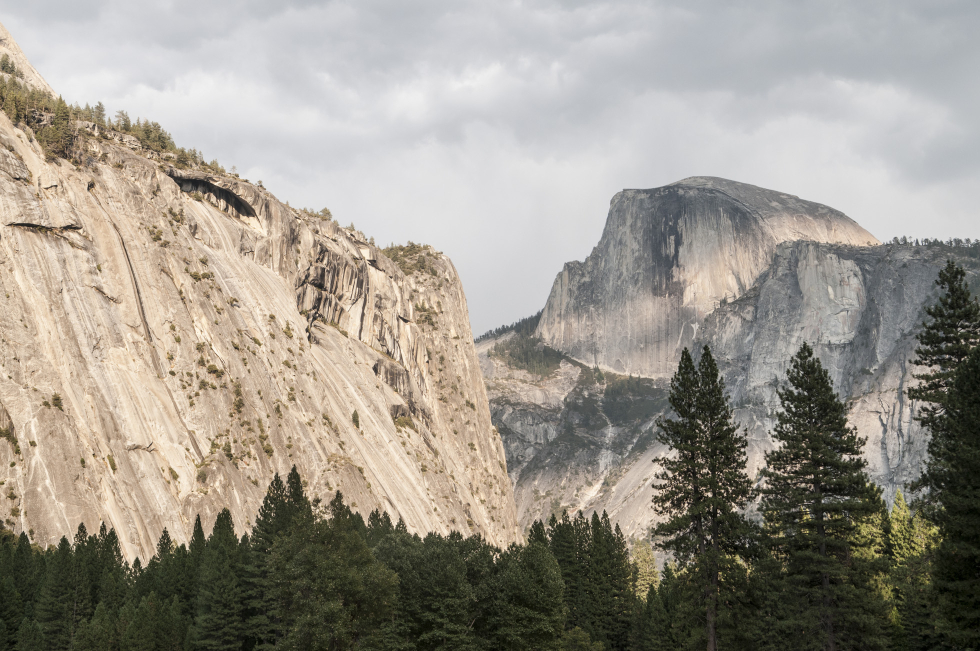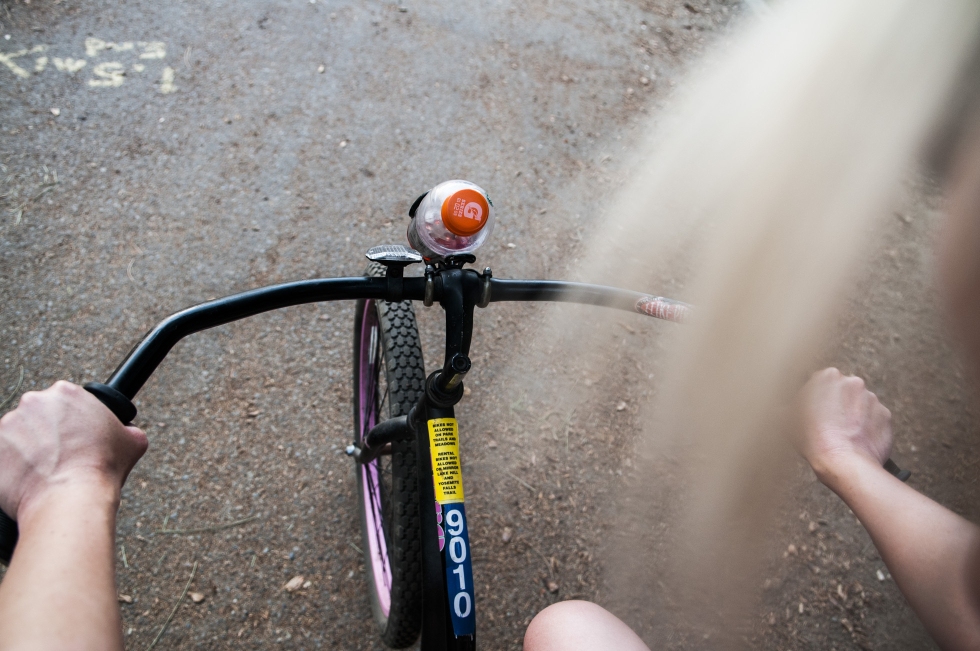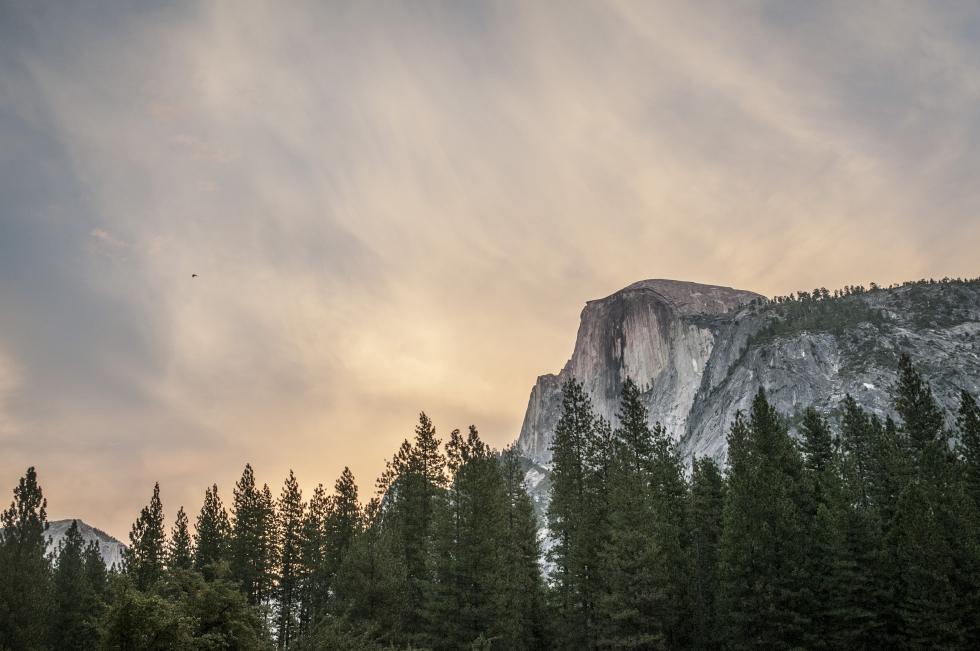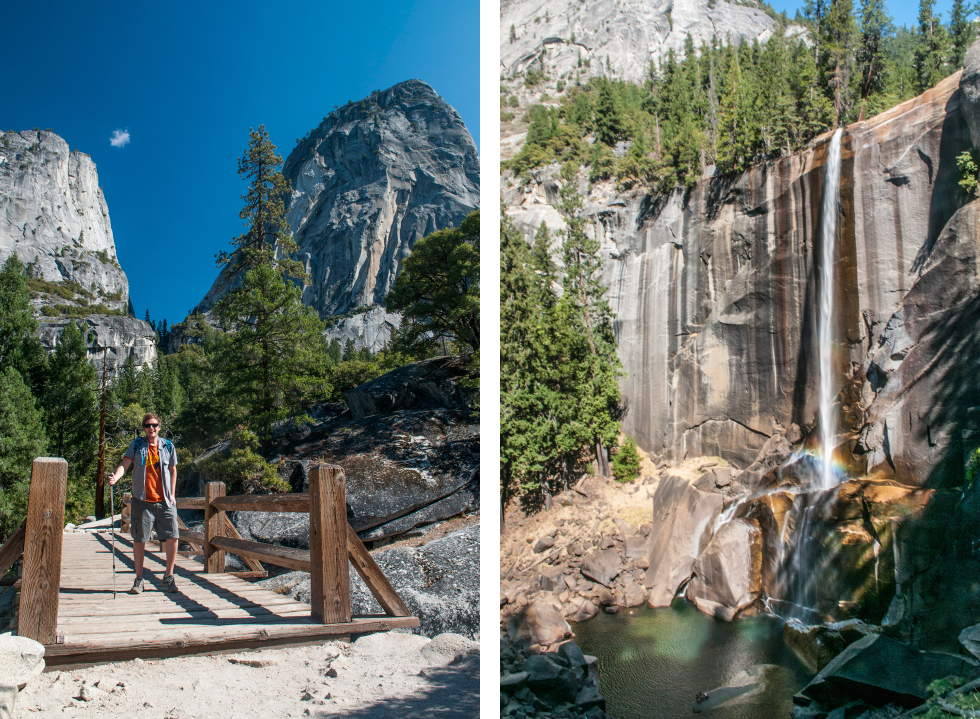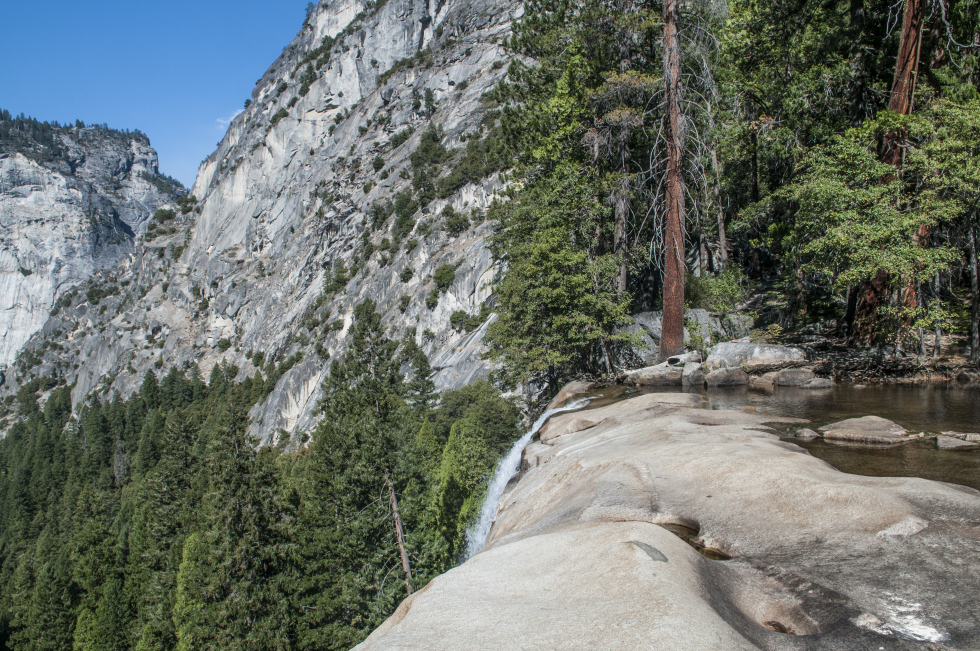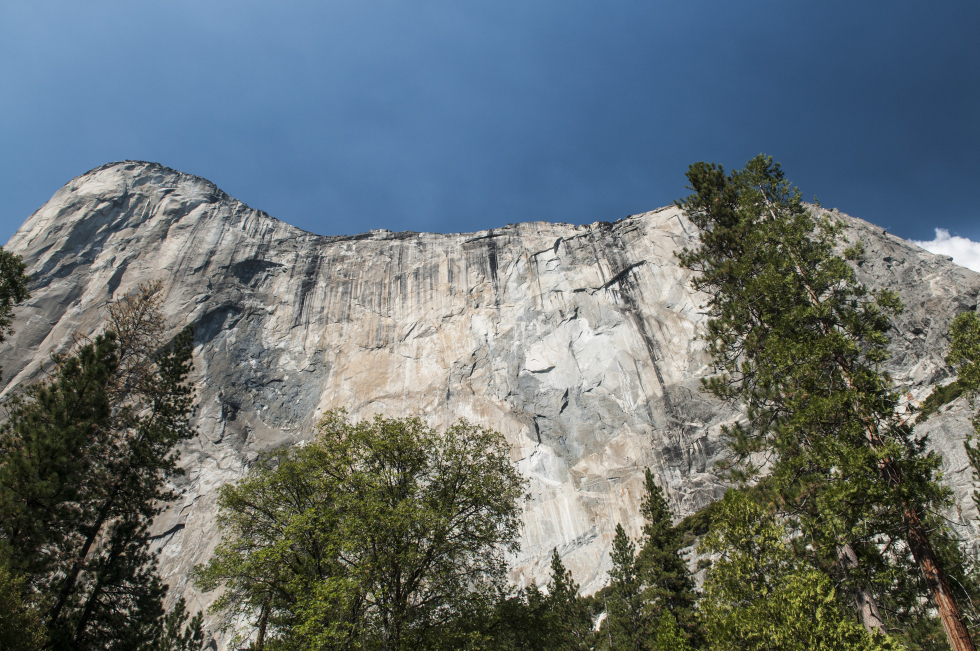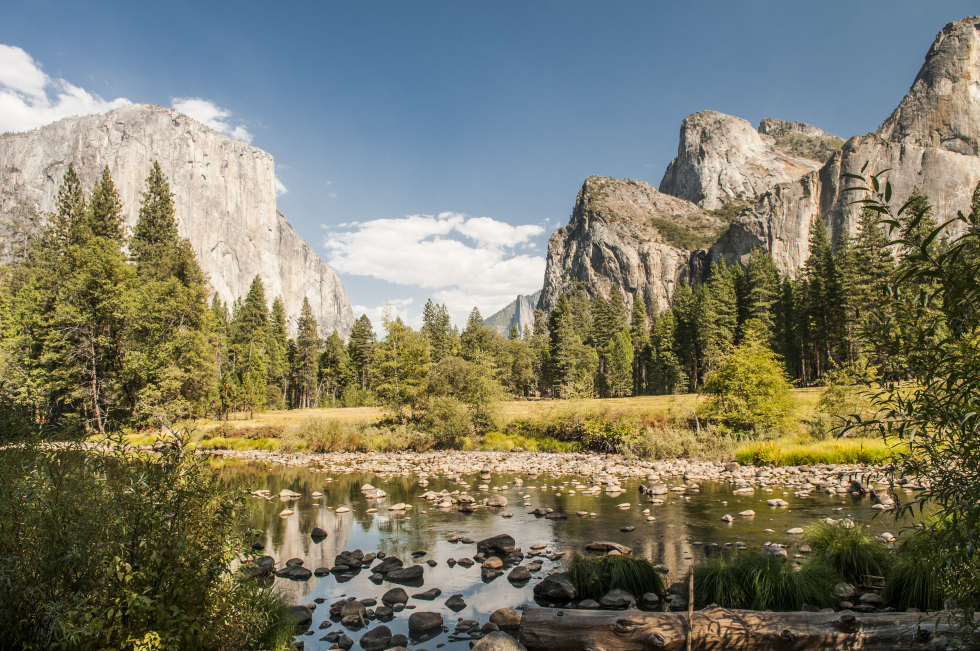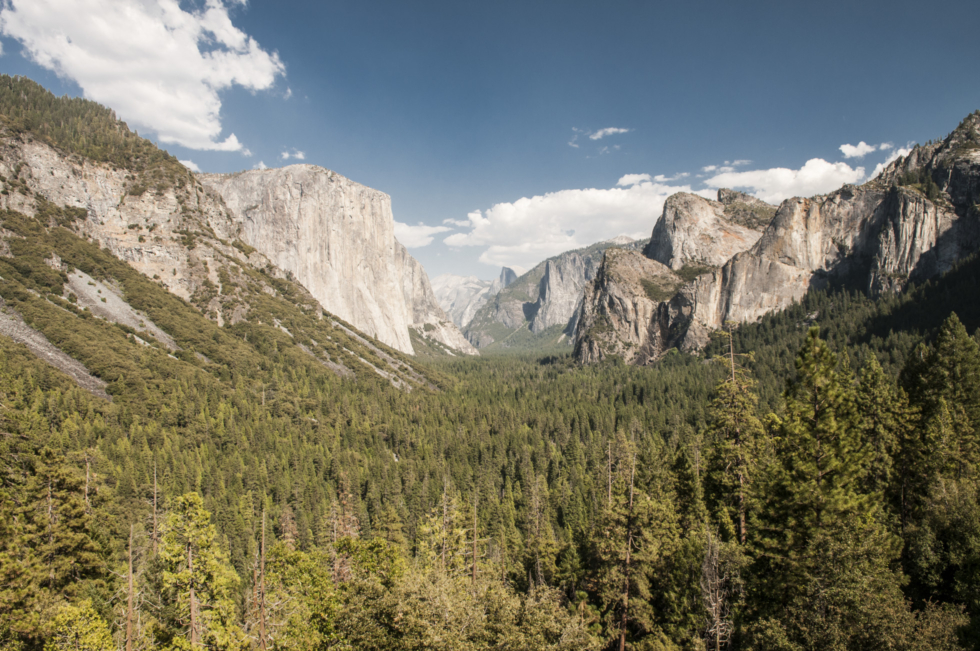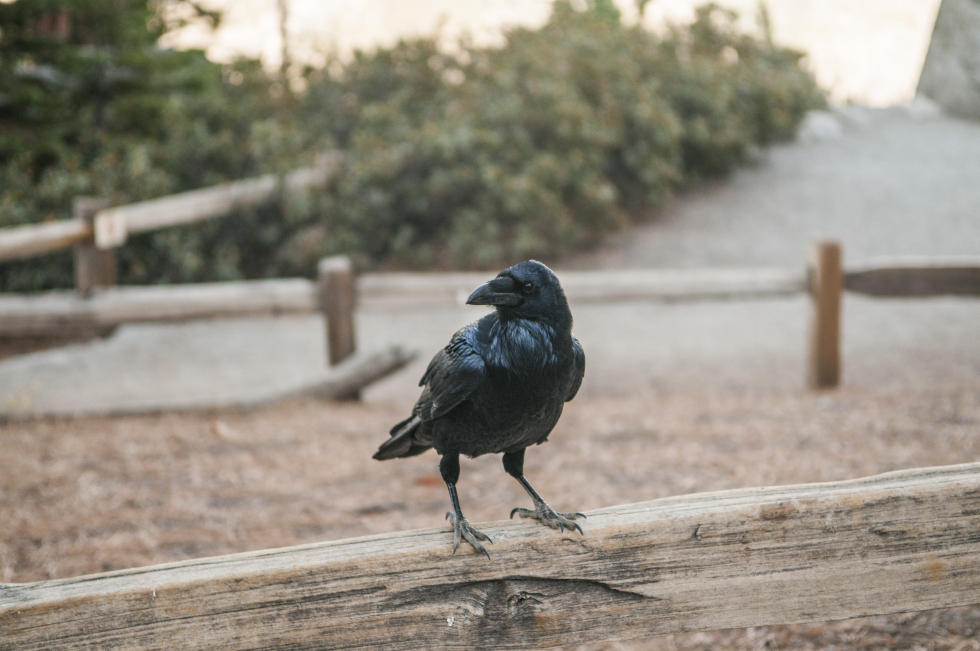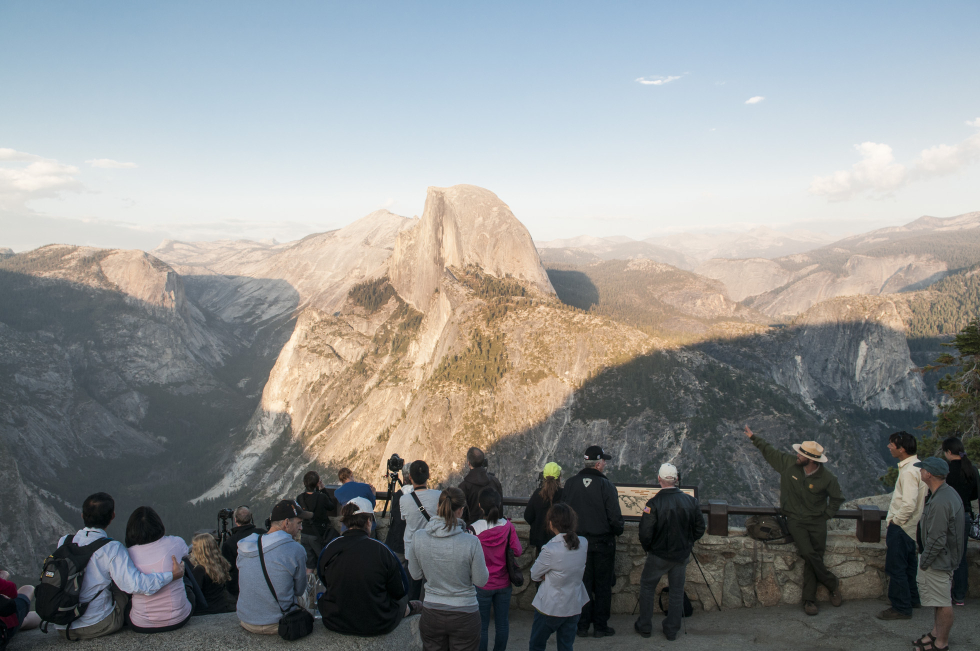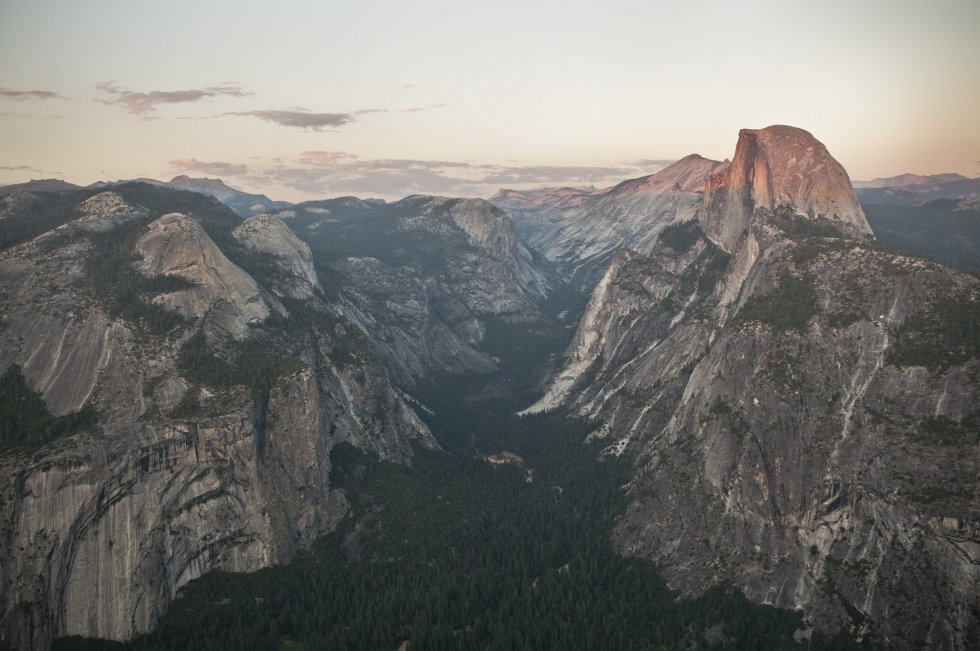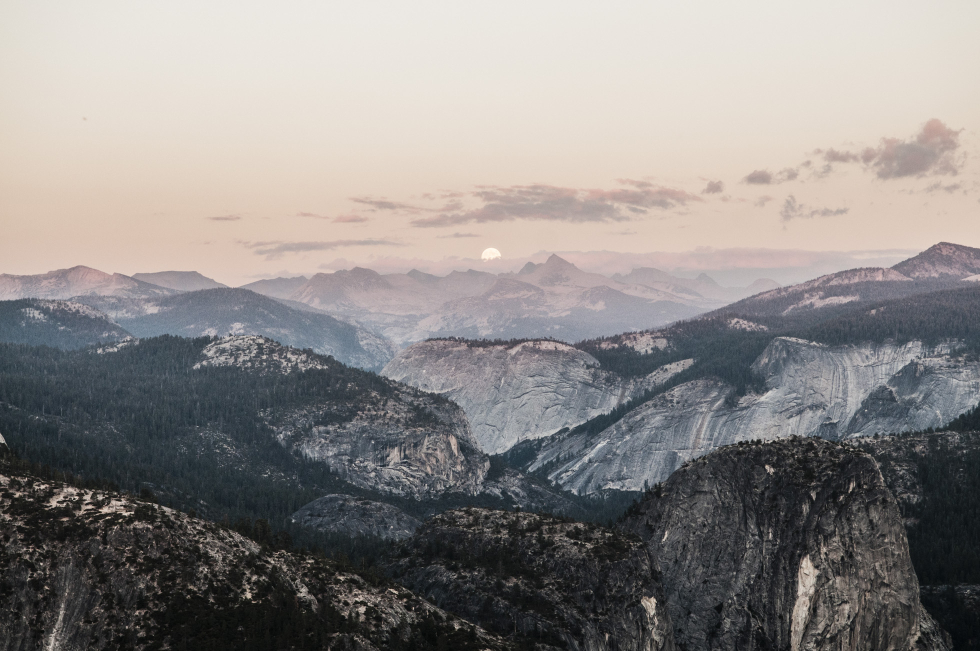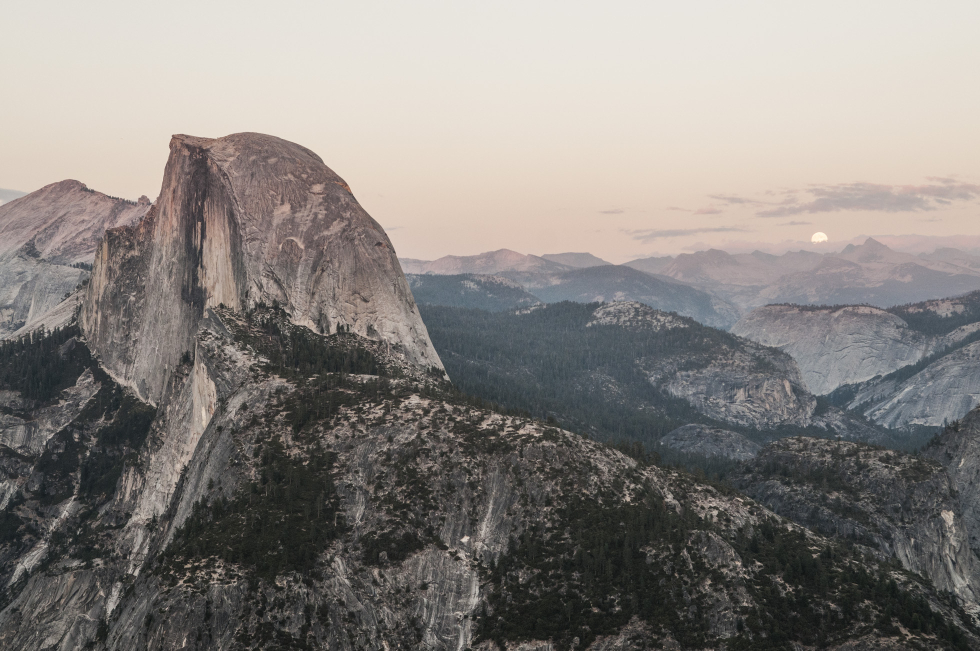 Days Twelve to Fourteen – Yosemite to San Jose to San Francisco
We were sad to pack up early and head out of Yosemite towards San Jose. We visited
The Winchester Mystery House
– staffed entirely by miserable teenagers and not such a mystery after all. San Jose was a pretty nice city and I'll always remember this as the day I laughed so hard I couldn't breathe and people were staring at me! I can't even explain myself, Chris just cracks me up! We had dinner at
Cheesecake Factory
(go and try the avocado rolls… mmm tasty good!) and managed to get a last minute upgrade to a fancy executive room at the airport Hilton. This was lovely after all those nights sleeping in the back of the car, especially since the next day we were checking into to a hostel for the rest of our trip. San Francisco has got to be the most expensive city for hotel accommodation ever. We started unlucky day number thirteen with an interesting half hour trying to burn off some gas bottles in a business park but the less said about that little misadventure the better! San Francisco was fantastic. Cheap sleeps & peanut butter bagel breakfasts at the
Green Tortoise hostel
. The excellent audio tour of Alcatraz with previous guards & inmates – I've done this before but it was just as interesting the second time around. Drinks at Vesuvios, a homely dive of a bar in the red light district and Jack Kerouac's old haunt. The extra long walk to the wonderful
Walt Disney Family Museum
where I loved the old photos and was inspired by the work ethic back in those older, simpler (although I'm sure, not easier) days and went all nerdo over the scale model of the original plans for the California park. I don't know why I don't have many pictures of this part of the trip. (EDIT: Oops, I remember. Possibly because on the ferry to Alcatraz I was leaning over the edge to take a photo and twirled my polarising filter around only for it to drop off the end of my lens into the sea!) We also visited Haight-Ashbury which I thought would be hippy paradise but was actually just a bunch of drugged out people lying on the floor with dogs sat on their heads. Hmm.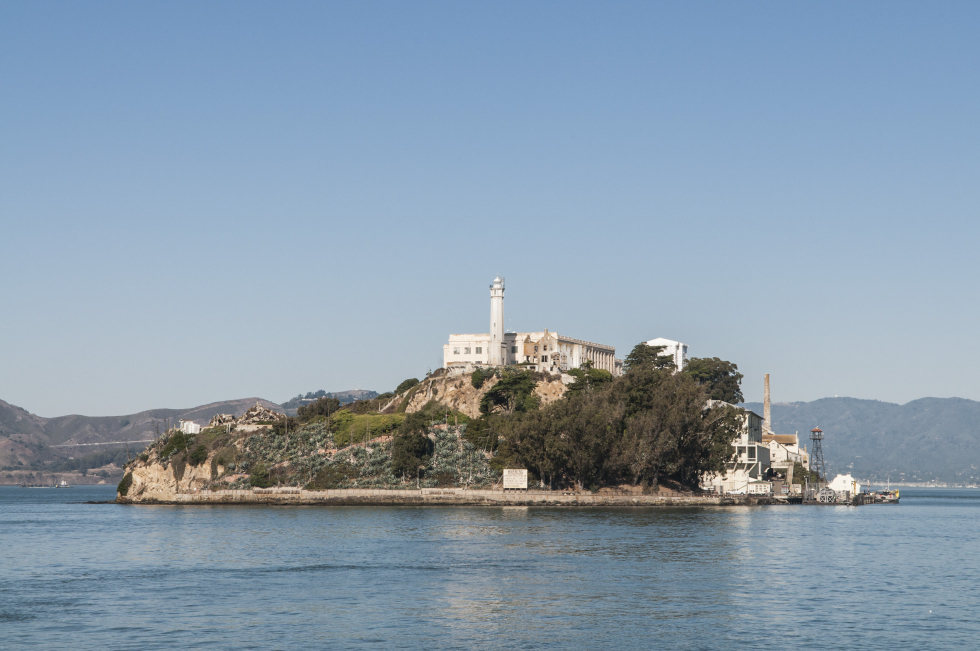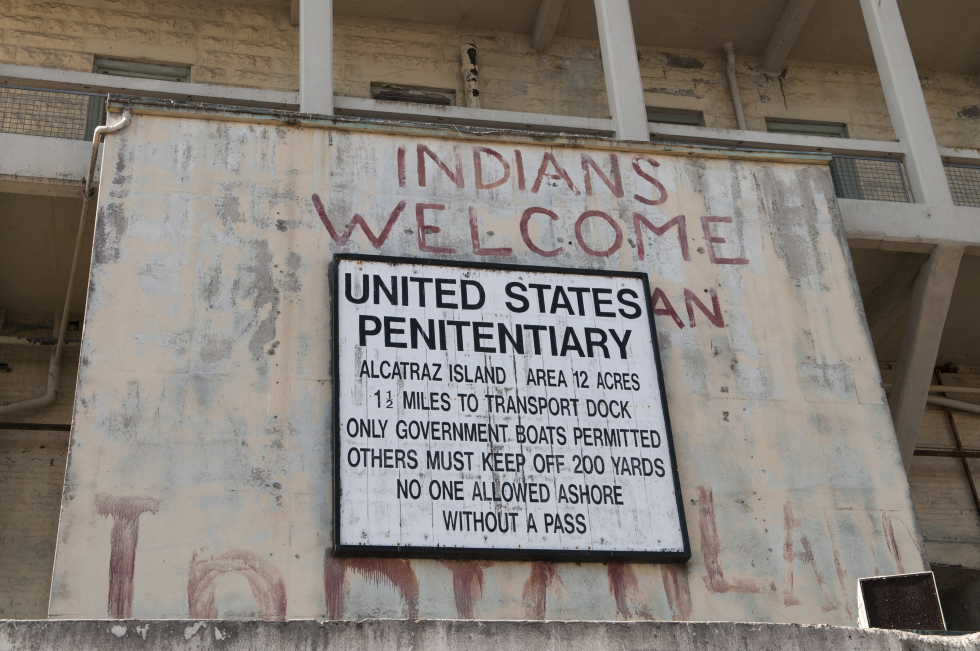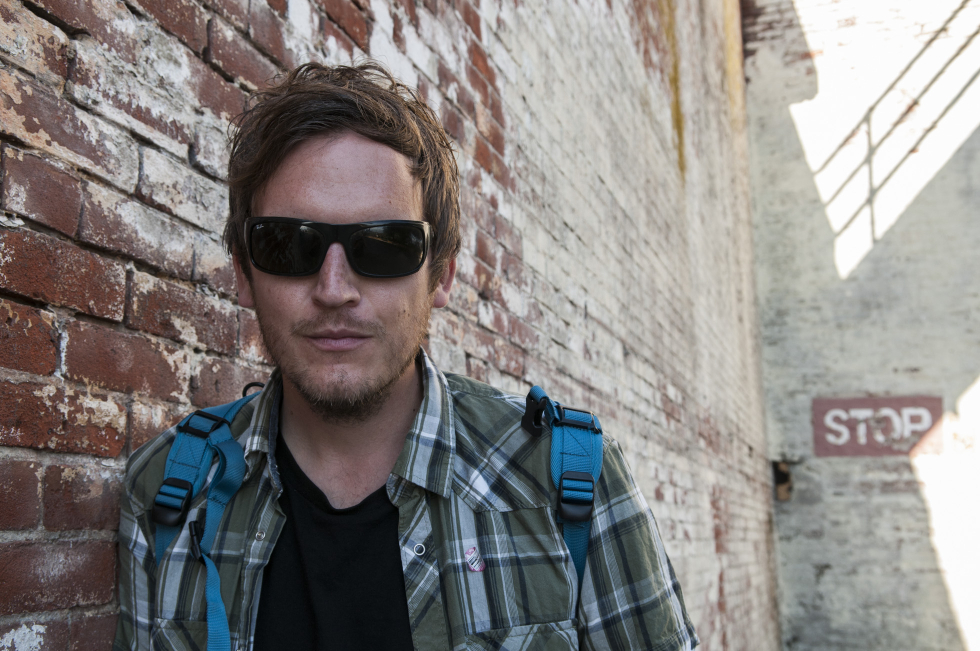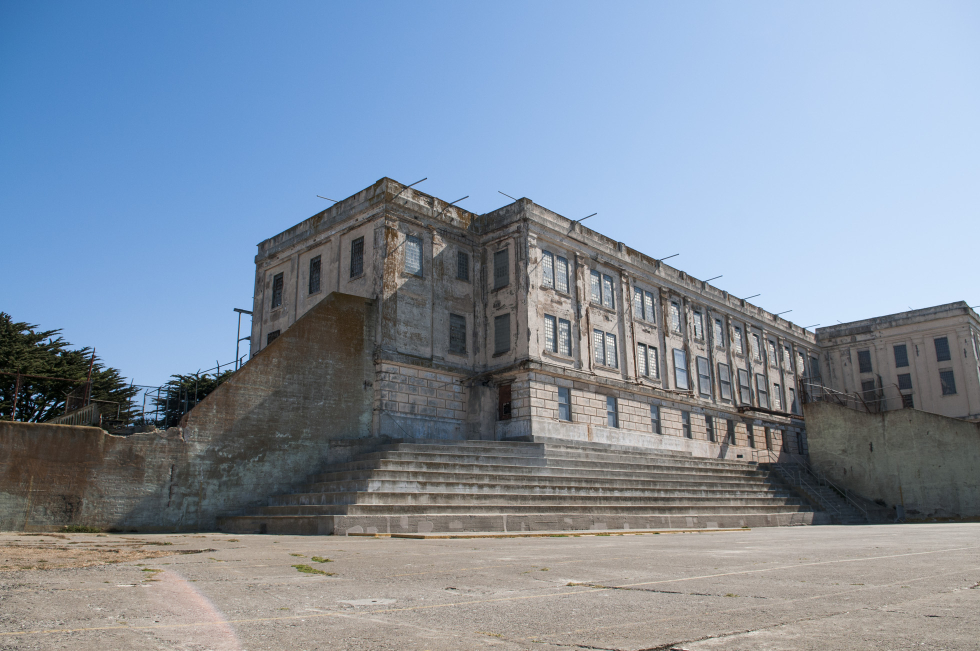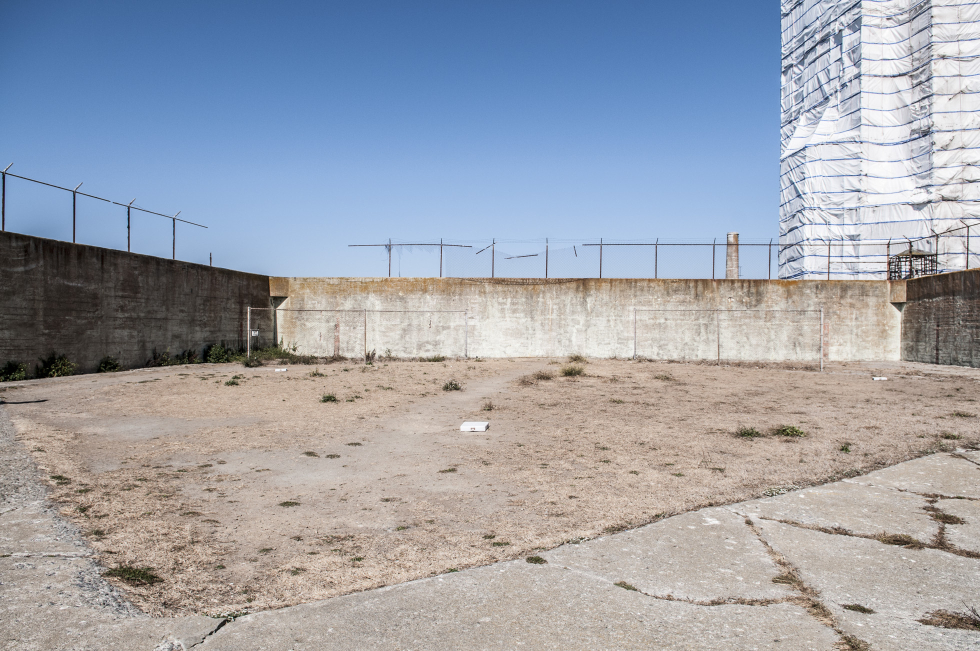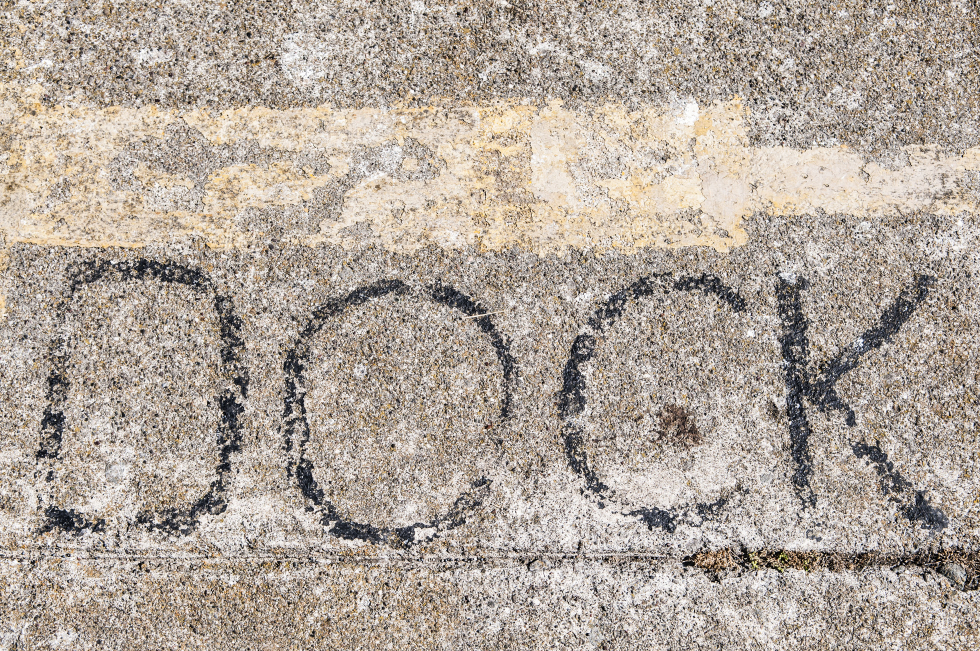 Day Fifteen – San Francisco and then home
For our final day we tried not to sulk and instead rented bikes and cycled the Golden Gate bridge – a much scarier bike adventure than Yosemite, especially since I've never ridden on a proper road before! It was like trying to cycle on the motorway, or the Severn Bridge back home. Still lots of fun though, especially the winding hills down into Sausolito on the other side. We caught the ferry back to San Francisco just in time to watch the mist rolling in across the bay. We were so sad to fly home. After sleeping for a while on the plane I woke up and decided to open the window blind to see if there was much going on outside. I totally didn't expect to see the plough constellation right at the end of the wing! An amazing end to an incredible holiday.